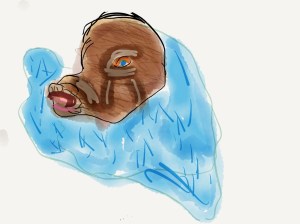 This is why we really don't want animals to be part of the singularity … how sad would it be when every time a pig with a Twitter account hashtags "bittersweet" when referring to the fact that it's going to be moving to a "farm upstate"? Really, really sad. But when it comes to our favorite mini-pig, the idea of becoming bacon is no problem, because he has a new dad!
Leo the pig rose to fame/his own social media presence (same diff) recently, thanks to efforts of his former owner, Bloomberg TV journalist Heather Hauswirth. When Ms. Hauswirth first posted her Craigslist ad in the voice of her 4-month-old "certified mini pig," who needed a nice new home and a caretaker to nuzzle with (d'waaa!), the adorable animal immediately started getting attention: on Twitter, where Leo had his own account, a Bloomberg TV segment and, most incredibly, a guest spot on Anderson Cooper Live today.
And now Leo has a new owner! Who lives on a farm! Upstate! Which is hopefully the same farm that dad took our dog Pongo to when he started getting sick.

Here's Leo's on Cooper today:
[protected-iframe id="b2b3bbce761818c30ae0949138253a5b-35584880-35147716″ info="http://cdnapi.kaltura.com/index.php/kwidget/wid/1_xz3ekng3/uiconf_id/7003641″ width="480″ height="316″]
Fittingly, Leo has found a new home with Eddie Lenzo, a "two-time Emmy award winning Jib Operator," whatever that is. He has worked on The Nate Berkus Show and Good Morning America, and according to the pig's publicist, was a cameraman for the Cooper segment. (Apparently Anderson Cooper really wanted to keep Leo … but, you know … he's busy.)
Mr. Lenzo is also the vice president of Air Sea Land Productions, which seems to be some sort of underwater adventure film team and the producer of something called The Magic Pool. No word yet whether he is a vegetarian. But more importantly, we hope Mr. Lenzo doesn't use Leo to find the answer to the age-old question: can pigs swim?