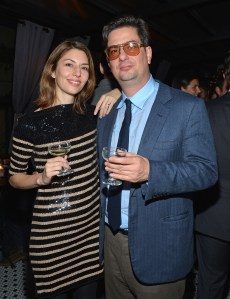 When you are the children of Hollywood's godfather Francis Ford Coppola, you have big family shoes to fill. Thankfully for cousins Nicolas Cage, Jason Schwartzman and Matthew Shire, they've escaped the burden of being associated with the surname. Not so for Coppola kids Sofia and Roman, who luckily are both in the film business and are doing big, big things right now.

Sofia Coppola is making up for her flop Somewhere with an interview with Lee Radziwill for T Magazine. It is a fascinating look at the ex-mother-in-law of Real Housewife Caroline Radziwill. (Just kidding! Jesus Christ, relax. But actually, the metaphor sort of works if you imagine Andy Cohen as the latter-day incarnation of Andy Warh … actually, no it doesn't. Forget we said anything.) Socialites used to be so witty and clever. Maybe we'd still have interest in them if any of the new crop was anything like Jackie O's sister.
[youtube http://www.youtube.com/watch?v=yigFNq_cXxs&w=560&h=315]
Not to be left in his sister's shadows, Roman Coppola is currently working on his own coup: a film called A Glimpse Inside the Mind of Charlie Swan III, starring cousin Jason Schwartzman, Bill Murray and, wait for it … Charlie Sheen. According to Variety, it's a role of his lifetime. Literally:
In a plot line that seems to intersect with some of Sheen's real-life persona, "Glimpse" follows a successful graphic designer whose fame, money and charm have made him [irresistible to women. But when his] girlfriend breaks up with him, his life heads into a downward spiral.
In an interview with Moviefone, Mr. Coppola claimed he was "baffled" by the fact that insurance companies wouldn't cover Mr. Sheen on-set:
Well, to me, it was such an obvious thing. I had sensed that Charlie would really be good in this movie and when the insurance company was not into it, it just kind of baffled me. I've known Charlie since we were boys together so when he looks at me and says, "Hey, let's do this thing. I want to do it." It's a done deal. He's going to be there for me; he's not going to be a flake or not follow through so I think the insurance company failed to get some good business and I saved some bucks because I couldn't get an insurance policy and I couldn't get a completion bond. Thank god, because I saved two percent of my budget for not giving it to that worthless function.
We're glad Mr. Coppola has so much faith in his old family friend, but actors that are "uninsurable" (Val Kilmer in the '90s, Robert Downey Jr. in the '90s, Lindsay Lohan now), are that way for a reason. Though we're sure Mr. Coppola knows what he's doing.
After all, he's made a bunch of music videos and co-wrote Moonrise Kingdom and The Darjeeling Limited, so how different could directing a full-length feature be? And to be fair, Sheen's back on the up-and-up, remember?
[youtube http://www.youtube.com/watch?v=3BEW78c_Dag&w=560&h=315]