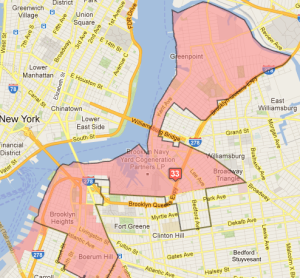 One of the fiercest disputes over the decennial redistricting process raged on after the final versions of the new City Council district maps were released this week. Councilman Steve Levin insisted the process through which the districts were drawn was focused on substance while his potential rival, Lincoln Restler, repeatedly dismissed the new Council maps as rooted in political concerns.
"There was never a serious discussion," Mr. Restler argued. "This was a political deal made by the Speaker and the local council member and it's clear throughout the entire process that it's nothing more than an incumbent protection program."
Mr. Restler's long-rumored bid to unseat Mr. Levin took a significant hit when the redistricting dust finally settled. In their final lines, the commission tasked with the decennial redrawing of City Council boundaries upheld an alteration to Mr. Levin's 33rd District that added tracts of Hasidic Jewish voters likely to back Mr. Levin and removed parts of Brownstone Brooklyn favorable to Mr. Restler.
Though neighboring Councilwoman Tish James supported Mr. Restler in his ultimately fruitless bid to undo the change, which was unveiled in an earlier draft, the Commission held its ground arguing the boundaries were amended to ensure Ms. James's district kept a black majority in compliance with the Voting Rights Act while also uniting a local community of common interest: Orthodox Jews.
Mr. Levin, in a lengthy explanation, laid out arguments for why the new district, which cuts out Park Slope and includes the neighborhoods of Greenpoint, Williamsburg, Bedford-Stuyvesant, Brooklyn Heights and Boerum Hill, is now more logically configured. He agreed with the commission's reasoning, and also pointed out travel from Park Slope to Brooklyn Heights to Greenpoint, via car or public transportation, could be unwieldy if he wanted to conduct multiple meetings in those neighborhoods on a single night, thus justifying the new fourth avenue boundary that shed Park Slope from the district.
"If you see the map of the district, the district as it currently is resembles some type of dinosaur skeleton," Mr. Levin said. "The Districting Commission has a very smart staff and they're balancing a lot of considerations. To me, this is actually above politics. So I think the Commission, if you talk to them, you see they have to specifically address interests in opposition to each other, which is a tough thing to do."
Although he promised in January that he would make an announcement in regards to his possible City Council bid at this week's meeting of his New Kings Democrats club, Mr. Restler didn't end up clarifying his plans and declined to comment on the subject.