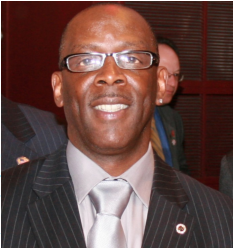 Though the field for term-limited Queens Councilman Leroy Comrie's seat is far from set, it may soon have a frontrunner: labor leader Daneek Miller.
Indeed, Mr. Miller, the president of Amalgamated Transit Union Local 1056, told Politicker that Mr. Comrie asked him to run for the City Council this year. Although he stressed he had not formally decided whether to launch his bid, Mr. Miller said he was seriously considering the opportunity.
"It's really an opportunity to bring a new voice, a voice that kind of understands the needs of the district," he said in an interview yesterday. "It's not a knock on anyone, but you look at those who have declared to run, you ask, 'Are they the voice of the people?' I've lived in the district for 30 years, since I was a kid. … I speak for the working people of the district."
Should he run, Mr. Miller would instantly be a candidate to be reckoned with in the Democratic primary for the southeastern Queens district. One Democratic source said other labor unions were already working behind the scenes to "clear the field" for Mr. Miller.
For his part, Mr. Miller said he would bring new leadership to an area that has struggled with high unemployment and a foreclosure crisis.
"There are a number of young people in the district that are underemployed or unemployed, five or six schools are on the list to be closed. That's just not a good situation," he explained. "Considering the amount of resources that come out of this city, we should be demanding more. Not just from City Hall, but of our selves. Listen, when I became president, I said that I was going to be better. Not that I was going to be better than the other guy, but I was going to be better and the best that I can be, raising the bar."
Of course, other candidates have indicated interest in Mr. Comrie's job too. As of now, Community Board 13 Chair Bryan Block, political consultant Sondra Peeden and former Congressional candidate Joseph Marthone have all filed to run for the seat.