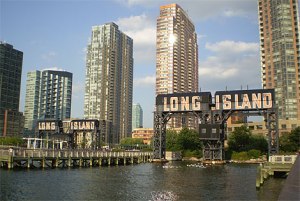 Is Long Island City the next Murray Hill? Or the next Williamburg? Or has it gone straight from being like the old, before-it-was-cool Williamsburg to the future no-longer-cool because it's all I-bankers living in luxury towers Williamsburg?
Who knows? Definitely not Long Island City. What Long Island City does know is that it doesn't want to be Long Island City anymore. It wants to be "LIC," which will stop tourists from thinking it is on Long Island and therefore, both uncool and really far away.
"It puts us out on Long Island, and that's inaccurate—we are urban and hip," Rob MacKay, head of the Queens Local Development Corp told the New York Post about the desired name change.
Poor Long Island City. The neighborhood is always waiting for its (long overdue) moment, always on the verge of becoming. If only it could figure out what it wants to become. So many promising signs, so many new housing units (Rockrose Development is building an additional 2,500), so many new climbing gyms—not one, but two, according to the New York Daily News.
"It just increases the [area's] cool factor," Dan Miner of the Long Island City Partnership said of the new climbing gyms. "It's going to bring people in without a doubt."
There may be a dearth of amenities (outside of the the luxury towers, that is), but there is a market, there is a bar, there is a plan for M. Wells to open a steakhouse. Rockrose recently bought up a row of buildings on Jackson Avenue that they think will make great "funky retail spaces" according to DNAinfo.
Will the neighborhood that has long felt like the middle of nowhere, despite being close to everywhere, finally feel like somewhere? And most importantly, what will that somewhere be like?
A haven for families seeking more affordable—if not actually affordable—housing? A bland landscape of soulless luxury towers for Manhattan office slaves who spend their free time pumping away at spinning gyms? An extension of Midtown with office towers and the bright lights of Queens Plaza, a kind of Times Square-lite? Will the cool kids finally follow and adopt the neighborhood as their own if it becomes a rock climbing destination? (We have our doubts given that MoMA PS1, for all its popularity, has failed to pull off that feat.)
The problem with Long Island City is that it isn't the industrial, taxi-cab, commercial-bakery filled hub that it used to be, but it can't figure out who it wants to be. It is neither cheap, nor charming, nor particularly gritty anymore, which means that no one is willing, or able, to claim it as their own.
Its "rebirth" at the hands of developers, rather than the usual artists and creative types, has put the neighborhood in a strange position. Unlike nearly every other patch of ground in New York, whose identity is constant battleground between the old-timers and the new-comers, Long Island City is a no man's land.
"What people find when they're coming here is they're getting value. They're overlooking the negatives of the area," aptsandlofts.com president David Maundrell told DNAinfo. Which pretty much says it all. No one's particularly excited to be moving in, but they are moving in and maybe once there are enough of them, all the other exciting things will follow.
Does it matter if Long Island City can't figure out who it wants to be? Yes and no. When it comes to economic viability and moving condo units, probably not—its proximity to Midtown means that continued population growth and ongoing redevelopment are inevitable.
But in a larger sense, yes, it really does matter. A safe neighborhood with abundant housing and an easy commute that is grudgingly accepted because it offers "value" is, if not a total failure, then at least a huge disappointment. It's wasted potential, a missed opportunity and something that, from an urban planning perspective, we should look to avoid.
It's also a particularly timely issue because it bears more than a passing resemblance to Hudson Yards—another neighborhood that is slated to rise, all at once, from nothingness—a kind magical apparition that may well find itself struggling with the same issues as Long Island City. Like Long Island City, its location is not far from where people want to be, but it is also not really close. Its surface will be slick, its square footage expensive, its broad corporate plazas quite possibly hard to love. And it seems unlikely, and unfair, to expect Diller Scofidio + Renfro's Culture Shed to do all the heavy lifting to make the place happen.
As a recent editorial in the Architect's Newspaper argued, the mega-projects rising around the city lack quality of place; their scales are vast, their public spaces uninviting, their surfaces too sleek. The city cedes control to developers with the resources to build these neighborhoods from scratch, willfully ignoring that while developers know how to physically transform a landscape and make money doing it, they know almost nothing about building a community or a sense of place.
Mega-developments like Hudson Yards, writes William Menking, look at the bottom line, "not what this city has been at its best or might be at its best in the future."
After all is said and done and developed, grafting an organic identity onto such spaces is a long, arduous process. It's the difference between building a neighborhood where people will live versus building a neighborhood where people want to live. The difference between Long Island City and Williamsburg, in other words. It's a conundrum well worth considering because with the city's rapid pace of change, and heavy reliance on a handful of developers to create that change, Long Island City's existential crisis could very well become New York's.
kvelsey@observer.com