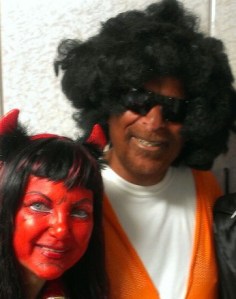 Brooklyn Assemblyman Dov Hikind has been at the center of a firestorm since Politicker revealed he wore a "black basketball player" costume consisting of an afro wig, brown face paint, an orange jersey and sunglasses to a Purim party at his home Sunday. At first, Mr. Hikind fiercely defended himself against criticism before penning a "heartfelt and sincere apology" on his website this morning. Though the incident and Mr. Hikind's initial response generated harsh headlines around the world and provoked critical statements from other politicians, several insiders we spoke with insisted Mr. Hikind was spared from a stronger reaction because of the unique power he wields on the local political scene.
One local political insider noted this isn't the first time Mr. Hikind has courted controversy without facing lasting repercussions. In 2011, Mr. Hikind was one of the most vocal Democrats opposed to New York's legalization of gay marriage. He bucked his party again this year when he suggested Jewish support for President Barack Obama was a "disease."
"Can you imagine if somebody else had said that? What does that even mean, right?" the insider said of Mr. Hikind's comments on the presidential election. "People are not willing to stand up to him. Internally, everyone realizes he's a dirtbag, we're just not going to say that because that's the game we play."
A Brooklyn politico told us political figures running for citywide office are reluctant to take on Mr. Hikind because they fear "retribution" from a man who's seen as "the gatekeeper of Orthodox Brooklyn."
"If this were another Assemblyman what would happen here? A three-car pileup of city officials denouncing his actions," they said of the costume incident before citing names of several elected officials who hadn't weighed in on the flap.
The local political insider listed several factors as contributing to Mr. Hikind's strength, including his status as a perceived "kingmaker" in Brooklyn's Orthodox community, his large war chest and his past association with the militant Jewish Defense League, which has been described by the FBI as a "right-wing terrorist group."
"It's a number of things. One, he has created a perception that he is a power broker who can actually deliver and, in a city where fewer and fewer political machines are relevant, this hits home. People really are afraid to go up against him," the insider said of Mr. Hikind. "Number two, he's amassed an awful lot of campaign cash. … Thirdly, he's like genuinely a scary dude. He's connected with quasi-terrorist organizations that have been investigated by the FBI and he's the kind of guy that can flip on you at any moment. He operates in this sort of mysterious, shadowy way up in Albany."
Mr. Hikind's Assembly district encompasses the neighborhoods of Borough Park and Midwood, two major components of the city's Orthodox community. Last year, he was re-elected by defeating his lone opponent in the district 94 percent to six percent. He received over 19,000 votes in that effort, an impressive total in a city where the last mayoral election was decided by about 50,000 votes.
All of the sources we spoke with speculated the impression of Mr. Hikind as an influencer in the Orthodox community might be, as the Brooklyn politico put it, "overblown." Indeed, some Orthodox insiders privately told us Mr. Hikind's reputation as a power broker is largely a myth because the younger generation of Orthodox Jews is less beholden to old institutional forces. However, the perception of Mr. Hikind  as a key Orthodox power player persists on the political scene.
In addition to the idea Mr. Hikind influences a solid base in the Orthodox community, the insider described his role as a visible figurehead in the city's wider Jewish community as a major source of his strength. Mr. Hikind hosts his own show on a local Jewish radio station and is always among the first and loudest officials to speak out on issues seen as affecting the community and instances of discrimination against Jews.
"He really does the Jewish thing very, very effectively," said the insider. "Cross him and he'll call you an anti-Semite and put you in the New York Post. In New York City politics, that's something people are genuinely scared of and he plays it. … It's like identity politics, mixed with money, mixed with intimidation."
Mr. Hikind's perceived influence in the Orthodox community both inside and outside of his district is especially important given the disproportionate presence of Orthodox voters in city elections. Orthodox voters reportedly make up as much as five percent of the total electorate in the five boroughs. Because of this, many of the major mayoral candidates have been courting Orthodox leaders ahead of the election.
Several of the insiders we spoke with suggested this desire to woo Orthodox voters may have saved Mr. Hikind from more fierce public attacks from the mayoral frontrunners. All three of leading Democratic candidates; Christine Quinn, Bill de Blasio and Bill Thompson, commented on the situation, but none of them sent out a wide press release on the incident. While Ms. Quinn simply said, "Assemblyman Hikind's costume was highly inappropriate and offensive and he should apologize," her rivals took a decidedly softer approach and included praise for Mr. Hikind in their statements on the situation.
"In all the time I've known Dov, I've never found him to be prejudiced against anyone, but clearly he did something very insensitive here," Mr. de Blasio said. "He should apologize."
Mr. Thompson echoed the call for Mr. Hikind to issue an apology while also noting he looks forward to working with the Assemblyman in the future.
"For years, Assemblyman Dov Hikind has played a crucial role in bringing together leaders from the African American, Jewish, and other communities to stand against racism and anti-Semitism," said Mr. Thompson. "Consistent with his record of service and commitment to our diverse city, I believe this incident calls for Assemblyman Hikind to issue an apology. I have stood with Dov on numerous occasions to take on the challenges that face our city. I look forward to doing so again."
A Democratic operative, who echoed the description of Mr. Hikind being seen as an Orthodox "kingmaker," said both Mr. Thompson and Mr. de Blasio have been "angling for his endorsement" for some time.
"De Blasio has been courting Dov for years. Thompson employed Dov's brother in the comptroller's office," said the operative. "There are deep ties between Bill Thompson, Bill de Blasio and Dov Hikind."
A source close to Mr. Thompson pointed out the candidate has extensive ties to many Orthodox leaders. They also said Mr. Thompson, who did not receive Mr. Hikind's endorsement when he first ran for comptroller, but earned the Assemblyman's backing in his 2009 mayoral bid, had worked with Mr. Hikind in specific instances to diminish the tensions that long existed between the African-American and Jewish communities. Meanwhile, a source close to Mr. de Blasio said that, while the candidate's statement specified he knew Dov not to be a racist, Mr. de Blasio was still firmly calling for him to apologize.
Regardless, Mr. Hikind certainly seemed pleased by the treatment he received from Mr. de Blasio and Mr. Thompson in the aftermath of the costume controversy. He discussed the various political reactions to the incident in an appearance on the Zev Brenner show on local Jewish radio last night.
"A lot of people made statements today and, if you look at them, you can see the difference between many of them," explained Mr. Hikind. "The statements of Bill de Blasio, the statements of Bill Thompson, I mean you can see the difference between those who have worked with me, and know who I am and what I'm all about and those who just have to have a knee jerk reaction."
In that same appearance, Mr. Hikind reiterated his defense of the incident by arguing he meant no offense and his critics misunderstand the nature of the costumed Jewish Purim celebration.
"If I was doing that all over again, I would look at additional alternatives," Mr. Hikind said of his costume. "Maybe I would be a gay person. By the way, would that be OK Zev, if I played a gay person next year?"
By this morning, Mr. Hikind did what many politicians previously called on him to do and issued an unequivocal apology for the incident.
"My intention was never to hurt or make fun of anyone," he wrote in a statement on his website. "Unintentional as they were, I recognize now that the connotations of my Purim costume were deeply offensive to many. I am sincerely sorry that I have hurt anyone. I apologize for the pain that I have caused anyone by this incident, and by any remarks that I have made in connection with it."
Some observers clearly think Mr. Hikind's apparent ability to weather this storm despite taking a ather meandering road to a full mea culpa is a luxury few others could afford. In New York City politics, it's good to be the "kingmaker."
(Updated 1:22 p.m. to clarify Mr. Hikind did not endorse Mr. Thompson's campaign's for comptroller, but did back his '09 mayoral campaign.)