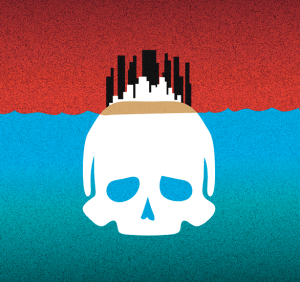 Three of the Western world's premier cultural institutions—New York University, the Guggenheim and the Louvre—are in various stages of setting up shop on Sa'adiyat ("Happiness") Island in Abu Dhabi, forming what has been described as a "highbrow cultural theme park" in the desert city-state. The deals that the Guggenheim and NYU cut with the emir are not news. Petro-potentates started collecting liberal institutions as the latest Western must-have a decade ago. 
What is news is the silence around last month's 2013 Human Rights Watch report claiming that the human rights situation in the United Arab Emirates (of which Abu Dhabi is a city-state) "deteriorated rapidly" in 2012.
So far, none of the bastions of Western tolerance have had much to say about that, or, for that matter, the previous annual reports detailing how laborers in the UAE are indentured servants, women have barely more rights than farm animals and political dissent leads directly to jail, sometimes by way of torture.
The details are disturbing.
Women's rights are basically nonexistent. Like many Islamic nations, the UAE applies Shariah law to women, meaning that women cannot seek adjudication pursuant to a civil code. Rape victims rarely seek justice, and if they do, they are prosecuted themselves. In December, a 28-year-old British woman who claimed she was gang raped by three men in Dubai (another UAE city-state) was prosecuted for drinking without a license. The Supreme Court has upheld men's right to beat their wives and children. Emirati women can only obtain a divorce through khul'a, a no-fault divorce that requires them to forfeit all financial rights. Emirati females are legally allowed to inherit just one-third of assets while men are entitled to inherit two-thirds. Men, but not women, are allowed to have four spouses. Men can marry non-Muslims; women cannot.
Two prominent human rights lawyers, Mohammed al-Roken and Mohammed al-Mansoori, have been detained for several years, along with judges, teachers and student leaders. Islamist activists simply disappear in detention. Last year, authorities issued a new federal decree on cyber-crime, making it a jailable offense to caricature or criticize the government. In 2011, a lecturer in economics at the Abu Dhabi University of Paris-Sorbonne (also lured to Happiness Island) was arrested for criticizing the government.
Nearly 90 percent of UAE residents are foreigners with limited rights. Many are Bangladeshi immigrant laborers who must work off the fees they are charged to get hired, have no right to organize or bargain collectively and face penalties for going on strike. Worker suicide rates are high.
This milieu would not seem to be the ideal home away from home for professors who teach labor history and gender studies.
But the price was right.
It's unclear just how much Emirati money flooded Washington Square. Abu Dhabi gave NYU $50 million in the '00s, but that was only the public, first tender offer. In 2008, Mariët Westermann, the former director of NYU's Institute of Fine Arts, appointed the first vice chancellor of NYU Abu Dhabi (NYUAD) said, "Abu Dhabi is willing to invest in whatever is needed on the Square. They are very committed to the flow."
NYUAD spokesman Josh Taylor declined to put a figure on the total contributed for The Observer but, referring to the new HRW report, he said: "NYUAD is committed to an environment that ensures academic freedom, thereby providing a context in which students, faculty and staff can engage in the intellectual exploration and analysis of even the most sensitive issues. However, such freedom does not extend to tolerating speech, writing and/or behavior that intentionally demeans others based on gender, race, religion, national origin, disability, and/or sexual orientation. It also does not extend to public defamation, libel or slander. Such behavior runs counter to NYUAD's educational mission."
Regarding women's rights, he emailed us a Tumblr link with several dozen snapshots of NYUAD students holding small signs starting with "Feminism is important because …"
He said that gender studies is not one of the degrees offered at the Happiness Island campus, but women are not subject to the dress code that prevails beyond its walls.
NYU's president, legal scholar John Sexton (who cut the Abu Dhabi deal and has earned the nickname "the George Steinbrenner of academia" for his fund-raising and grand vision), is teaching a course in religion and government at Abu Dhabi and commutes between New York and the UAE. About a third of the NYUAD staff consists of New York-based faculty members who fly over (first class) to teach on a monthly basis.
A 2008 New York magazine story on NYUAD revealed off-the-record professorial angst over the collaboration, but faculty members have been mostly silent. It's a rare voice on the left—especially in the academies—who will take on Islamist censorship and Shariah abuses against women.
This is all the more disturbing since at NYUAD, at least, the chill seems to be getting inside. Last summer, The Chronicle of Higher Education reported that NYU's "researchers in the UAE use caution in broaching topics such as AIDS and prostitution, the status of migrant laborers; Israel and the Holocaust; and domestic politics and corruption."
Reacting to that, Naomi Schaefer Riley, a Wall Street Journal education writer, penned a piece in The New York Post accusing NYU and other American colleges of "pandering to despots." The Village Voice's Nat Hentoff picked up her theme and accused NYU's Mr. Sexton of "despoiling" NYU's reputation.
NYU professor Andrew Ross, head of the NYU chapter of the American Association of University Professors, told The Observer that the faculty plans a vote of no confidence on Mr. Sexton next month, and the Abu Dhabi issue is one reason for it.  "The decision to invest so much of NYU' reputation in Abu Dhabi was made unilaterally by President John Sexton, and it is one of the factors weighing on the faculty's desire to pursue a vote of no confidence in him," he said.
Still, hundreds of NYU's faculty members have volunteered to work in Abu Dhabi anyway. And why not? Who could resist the lure of large bonuses—in some cases the equivalent of two-thirds of a year's salary—first-class airfare for family and free private school for the kids?
NYUAD aims to have 2,200 undergraduates within the next 10 years. Currently the school has 450 students who pay $65,300 per year, much of it underwritten by UAE financial aid.
While NYUAD has been open for business on Happiness Island since 2010, the Louvre's opening has been delayed to 2015, and the $800 million deal to bring the Guggenheim there is also stalled, until at least 2017. Frank Gehry's 90,000-square-foot design, looking every bit like a crazy pile of discarded origami bits, remains a model only. Not a spade of desert sand has been overturned.
Last year, artists and curators signed an online petition threatening to boycott the Goog over the treatment of workers in Abu Dhabi. "Artists should not be asked to exhibit their work in buildings built on the backs of exploited workers," Walid Raad, a Lebanese-born New York artist who was one of the boycott's organizers, said in a statement. "Those working with bricks and mortar deserve the same kind of respect as those working with cameras and brushes."
But abused laborers aren't the only obstacle to a happy marriage between the Goog and the emir. In a Guardian piece last year about the stalled plans, a museum official said the delay provides time to "educate the audience," in case the art might provoke an "aggressive response" from conservative Emiratis. William Wells, director of the Townhouse gallery in Cairo, told the Guardian that the Guggenheim did not have a signed commitment from Abu Dhabi that there would be no censorship, although the project managers told the paper there was an understanding. Eleanor R. Goodbar, a Guggenheim foundation spokesman, told The Observer that terms of the agreement were confidential.
Last September, independent auditors looking at worker conditions at Happiness Island found that three-quarters of the site's workers had paid recruitment fees for their jobs, a form of indentured servitude banned under international labor standards.
There is a very good argument to be made for liberal institutions putting down stakes in repressive regimes. They can serve as good bacilli of sorts, implanting ideals of tolerance, women's rights and free speech in the belly of the beast. But there is no evidence that NYU or the Guggenheim ever insisted on anything like a free speech or women's rights clause when they sold their brands.
We have (cynically) come to expect American corporations to remain silent on human rights abuses as one dirty cost of global capitalism. When these institutions, desperate for cash in recessionary times, take money (and first-class plane tickets) to expand the global brand without retaining the meaning of the brand, they aren't much different from Shell, BP or anyone else doing business in the Gulf.
If our strongholds of tolerance and free and open discourse don't maintain standards vital to our society and to their own enterprises, they are merely selling their souls, and by extension, ours.
editorial@observer.com