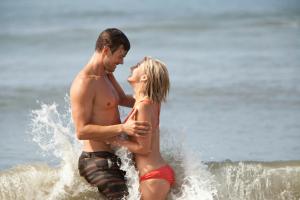 In Vincente Minnelli's 1952 classic The Bad and the Beautiful–—one of the greatest films ever made about the inner workings of the Hollywood movie industry—Walter Pidgeon played a studio executive whose motto was "Bring me films that end with a kiss and black ink on the books." Today's films rarely end in either, but don't tell that to Nicholas Sparks. The popular novelist has swallowed a formula: give 'em pretty people with troubled relationships that usually span more than one time zone, blending the present and the past, and end with a sunset, an embrace and a last-minute kiss. Safe Haven is the eighth moist Nicholas Sparks rom-com to land on the screen, following in the footsteps of The Notebook and Dear John. This one blends the scented candles of a daytime soap with the tamer aspects of a middling thriller. Some folks will bring Kleenex. Others will need NoDoz.
A mousy brunette holding a bloody butcher knife (Julianne Hough, a dancer with scant experience from TV's Dancing with the Stars) flees a house in Boston in the pouring rain, turns into a stunning blonde on her way to the bus station, boards a bus for Atlanta and runs away from home, pursued by a cop so obsessed he makes Russell Crowe in Les Misérables look like a security guard at a taping of Sesame Street. She gets as far as a sleepy beach town on the banks of North Carolina, rents a shack in the woods as far from prying eyes as she can get, changes her name to Katie and settles down with a good book to think, analyze and regroup. But you know the drill. Purple sundowns and moss swaying from antebellum magnolias go just so far.
In no time, Katie meets Alex, the town's most eligible single dad and camera-ready 8-by-10 (Josh Duhamel). Katie has a dark secret to hide (she may have committed a murder). Alex has a new start to make (he's a grieving widower who lost his wife to cancer and now has two kids to raise on his own). It's a match made in Technicolor.
Katie also has a nosy neighbor named Jo (Cobie Smulders) who also seems to be hiding from something. While these people never come to life as anything more than stick figures shaped together with wire hangers and airplane glue, they do indulge in daily rituals that prolong any threat of mounting suspense. Alex gives Katie a bike out of kindness. Katie paints her kitchen floor yellow. Alex and Katie go canoeing, prance into the waves at the beach and get soaked in an unexpected downpour—nothing like uncomfortable wet clothes to edge a horny couple closer to warm sheets.
In time, she inadvertently helps him out of his emotional funk and fear of commitment. Then he sees her face on a wanted poster and it's his turn to help her. But first there's the annual Fourth of July fireworks display, and the arrival of the Boston cop who stalks her, a fiend without a badge played by Australia's David Lyons. It's an hour into the movie before we find out what the mystery is all about. But the biggest mystery of all is the identity of Katie's friend Jo, lending Safe Haven a spiritual component that wrecks the movie at the eleventh hour. After waiting so long to figure things out, this is no time to turn phony. On the plus side, the two leads are attractive enough to hold interest and the cinematography is predictable but lovely to look at. But the adaptation of the Sparks novel by Dana Stevens and Gage Lansky plods along with dialogue just above the level of crayon scribblings, and the direction by the usually reliable Lasse Hallström is dismayingly sluggish. Modest is the word for Safe Haven.
rreed@observer.com
SAFE HAVEN
Running Time 115 minutes
Written by Leslie Bohem (screenplay), Dana Stevens (screenplay) and
Nicholas Sparks (novel)
Directed by Lasse Hallström
Starring Julianne Hough,
Josh Duhamel and Cobie Smulders