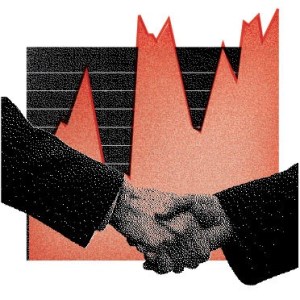 In the ocean of money that is Wall Street, things come in waves. Consider the first big merger wave of the modern era: in 1965, there were 2,000 M&A transactions on the U.S. In 1969, at the height of the go-go years, there were more than 6,000. And then in 1974, the number dropped back to 2,861 along with the collapsing economy. Those numbers seem quite quaint today, but the phenomenon retains its contours: when it comes to M&A, corporate executives shed all pretense of individual "leadership" and just do what everybody else is doing.
Which brings us to 2013: a couple of big transactions have the punditry in a tizzy about whether there's a tidal surge of M&A headed our way. At Up & Down the Street, we're not so excitable. But some of these deals are, well, big deals.
On February 5, Liberty Global announced a plan to buy Virgin Media for $23.3 billion. On February 14, Heinz agreed to a $23 billion buyout by Berkshire Hathaway and 3G Capital. In the middle of last week, we got news that even though the Department of Justice is trying to play spoiler, the $20.1 billion merger between beer titans Anheuser-Busch and Grupo Modelo may still be on track. And then on February 20, like the sound your iPhone makes when it's dying, came news of the combination of OfficeMax and Office Depot for a relatively piddling $1.17 billion. Time magazine decreed that last deal a further sign of "the strong start to 2013's M&A market."
Okay, fine: the first two deals were both about big capital backing big deal-makers—John Malone and Warren Buffett, respectively. So there's the whole financing-being-plentiful argument to be made—also referred to as "credit being cheap." Gun-shy corporate executives (Warren Buffett included) have also seen their cash piles balloon in recent years, meaning there's lots of dry powder in corporate financing arsenals as well. And yes, the balance sheets of American businesses are, on balance, in pretty good shape these days. So perhaps conditions are ripe for an M&A boom. No less august a publication than The Economist suggested exactly that. And it brought evidence to support the thesis: fourth-quarter M&A levels were their highest in four years.
Speaking of evidence, here's some of the useless sort: The Economist also cited a survey by global consulting firm PwC in which 42 percent of American CEOs said they planned to make one or more acquisitions this year, roughly equal to 2012 levels. Setting aside the fact that nothing has changed, there's the more dubious issue of asking executives about their "intentions." A merger boom does not happen in the mind, people—it happens on term sheets. But then again, we're talking about PwC here, part of the MBA-consultocracy complex that sees its mandate as "resolv[ing] complex issues and identify[ing] opportunities." And nothing screams "opportunity" like a consultant with a PowerPoint presentation and a couple of acquisition targets.
Let's think about one of the above deals for a second. Why did Heinz sell to Berkshire Hathaway? Because Warren Buffett came calling. Most managers want to be buyers—these are dominant folks, after all—but the arrival of Mr. Buffett on the scene can turn any executive top into a bottom without too much negotiation. Mr. Buffett wants to finance the deal with $14.1 billion in debt, you say? Heinz CEO Bill Johnson took a look at that leverage, noticed his possible $100 million payout from the deal, and saw nothing but harmonious logic. And hell, maybe Mr. Buffett will start talking about Heinz at his annual meeting, and then every investor in the country will buy a bottle of ketchup out of obeisance. You get the point. No one says no to Warren Buffett.
And let's also return to the OfficeMax/Office Depot deal. Now, that transaction has nothing in common with what Warren Buffett does with his spare cash. This is a move born of desperation and nothing more—the result of the relentless assault of Amazon.com as well as the more successful big-box retail management of Staples and Walmart. Considered in that light, this deal is obviously more of the two-drunks-leaning-against-each-other-in-order-to-stay-standing-up sort. But maybe one of their CEOs was one of that 42 percent who talked to PwC. So maybe he's not alone. Is a wave born of desperation still a wave? Or is it a particle?
Let's be honest here. The reasons for M&A are as different as snowflakes. CEOs use mergers to achieve scale and to cut costs. They do deals out of boredom. They do deals to distract investors (or their directors) from a lack of movement in the "core" business. And they do them to increase company value and therefore paychecks. Do not underestimate how often this last reason is dressed up in the jargon of PwC and their Wall Street banker pals as something else.
Here's another reason executives do deals: because they don't like to be told what to do. Once you've reached the corner office, in other words, aren't you supposed to be the one calling the shots? But because that cash is starting to pile up to obscene levels of $2 trillion-plus—see the contretemps between David Einhorn and Apple for a specifically intriguing example—there is an increased drumbeat among investors to give some of that money back via more share buybacks or increased dividends. But why should you do what the owners of the business want you to do? And what's a share buyback compared with the derring-do of a surprising acquisition that has the market thinking you're a company on the move?
As a great poet once wrote, "[I] love you more than madness, more than waves upon the sea." The roots of M&A are and always have been both—the madness of megalomania combined with the waves that happen when our nation's corporate "leaders" reveal themselves to be the followers they really are. What does it mean that we may be seeing a new M&A wave take shape? Nothing more than the fact that people are doing anything they can think of doing in order to seem like they're doing anything at all. Because there's nothing Americans hate more than a man of inaction.