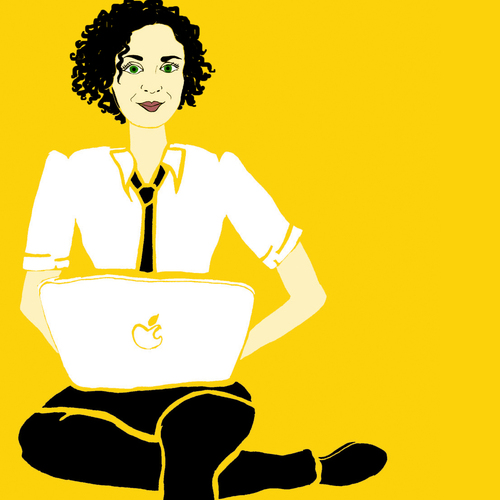 Brain Pickings' Maria Popova is a little like the brainier counterpart to the Oatmeal's Matthew Inman: She's got her haters, but she's also hugely popular, to the tune of 500,000 monthly visitors to her website. Fans like Biz Stone and William Gibson come for her eclectic array of offerings; many, like Princeton professor Anne-Marie Slaughter, fork over regular donations to keep the site running without ads. (Ms. Slaughter has compared it to supporting your local public radio station.)
But there's something Ms. Popova doesn't mention in her appeals to donors, amid her talk of operating "ad-free." She might not run banner ads, but she appears to earn income from affiliate links. You read a glowing review, you click through to order the book, and Ms. Popova gets a commission.
The accusation comes from an anonymous Tumblr, apparently created explicitly for the purposes of posting this scathing take-down. Here's the crux:
It is often controversial for a site to make money off of affiliate ads without notifying users in any terms of use (i.e. Pinterest), or to write reviews on products without notifying users they are making money when the reader clicks and purchases those products (the FTC enforces laws for certain types of blogs), but Popova has been going a bit further – while keeping the ads undisclosed, she also writes at the end of each article and in each email newsletter that the site is ad-free and needs user donations to support it.
Ms. Popova spends an awful lot of time talking shit about ad-supported journalism, for someone who likely makes at least a bit of dough off affiliate links. The Tumblr post references one Guardian Q&A in particular:
As soon as you begin to treat your stakeholder as a bargaining chip, you're not interested in broadening their intellectual horizons or bettering their life. I don't believe in this model of making people into currency. You become accountable to advertisers, rather than your reader.
Ms. Popova certainly claims that Brain Pickings is ad-free. Check out how she pitches potential donors on her site:
Keeping it all ad-free — which is important to me and, I believe, to you — means it's subsidized by the generous support of readers like you. So if you find any joy and stimulation in it, consider a modest donation.
For good measure, here's a slice from a piece she published last March, about E.B. White's opposition to an Esquire writer's commissioned and funded by Xerox:
Nearly another half-century later, "the funded article" describes, directly or indirectly, the vast majority of today's information landscape. The basic ad-supported monetization model of media today, online and off, is a legacy model that only further commodifies content, erodes editorial integrity, and does the audience — who should be, to reiterate because this can't be emphasized enough, the only appropriate stakeholder — a tragic disservice.
Of course, Ms. Popova is far from the only blogger making money from affiliate links. Even big sites like Gawker, Buzzfeed and Slate have dabbled in the practice. But Ms. Popova talks a very big game about how her site is ad-free and why that's so superior, and she solicits donations on the notion that it's ad-free.
And if the Tumblr post is to be believed, she's good as admitted that she knows readers don't know about the practice–the author says she told him that she was surprised he was "aware enough to bring up these issues."
You could argue that affiliate links aren't technically ads, but that misses the point. If you slap a banner ad on the top of your website, at least readers know it's an advertisement and they can take it with a great big grain of salt. But when they read a glowing review from someone they trust, then click through to place an order for that book–without knowing said reviewer is getting a kickback–isn't that worse?
Sure, her site makes a big deal about not accepting unsolicited review copies, and it may very well be that she'd be writing about these books in the same glowing terms, even without the affiliate guap.
The take-down isn't perfect. There's a lot of back-of-the-envelope math to suggest Ms. Popova might be making $1 million (imagine that read in a Dr. Evil voice) from these sales annually, but it's unclear how much money Ms. Popova's affiliated links actually generate. There's an unnecessary amount of noise made about the fact that Ms. Popova sees and often takes suggestions from the affiliate data she receives from Amazon, and the detail that Ms. Popova may have recently incorporated Brain Pickings is treated as more of an "ah-HA!" moment than the situation perhaps warrants.
It also seems like the unnamed author might have some ulterior motives. Note the title: "Maria Popova – have you made $1M on affiliate ads while soliciting $500k in donations for your "ad-free" site? Then maybe go easier on your fellow writers for how they make a living." Is someone taking something Ms. Popova said a touch personally, perhaps?
But at the very least, it raises enough valid points to foster cynicism. Isn't that contrary to Ms. Popova's whole marvelous-world-of-wonders schtick?
UPDATE 2/13: Ms. Popova has responded–at length–primarily pushing back on the original assertion that affiliate links count as advertising and denying that the money has any affect on what she writes. She asked that we print her response in its entirety:
Yes, the links are affiliate. (Most sites that use Amazon links use affiliate links, for what it's worth.) They change nothing about what I read and write about –Brain Pickings is, always has been, and always will be, a reflection of my own curiosity and information diet. I spend the majority of my life reading books, so I write about that. I did so much less until I moved to New York at the end of 2010, because I was a stranded nomad living in several cities on 3 coasts and 2 continents over a span of less than two years – obviously, you can't have books when you move that much, all my old books were in storage and I wasn't getting any new ones. But once I got here to nest, I was delighted to rediscover them and immerse myself in so much more reading. I'll always write about what fills my life – my physical life, my mind's life, my heart's life – and BP will always be a record of that.

I actually formed the LLC after a few readers alerted me last spring that a company in Israel had incorporated with the name Brainpickin' and was even using my old logo font. My studiomate Tina (who runs the Swiss Miss blog) had dealt with similar issues, so she immediately connected me with her IP lawyer and told me to incorporate ASAP to avoid trademark issues. Which is what I did. It has never been connected – and in fact, it hadn't ever OCCURRED to me that it could be, until now – to any of my income from readers, direct or indirect.

And, actually, this is what it boils down to – Brain Pickings is just my personal project, and readers make it possible to sustain both directly and indirectly.. (It costs around $3,600 a month just to run it – web hosting, email delivery, books I buy, proofreader, backups, TypeKit, etc. – and that does not include my time, which if paid at minimum wage would take it up to nearly $7,000). Readers contribute directly, by making donations, and indirectly, but enjoying the books I have enjoyed myself, which gives me a small kick-back from Amazon every time they buy them. That is still a direct relationship with readers and, contrary to that guy's semantically outrageous claims, the very opposite of an advertising relationship. I'm glad others share in my appreciation of books, but it would in no way diminish my personal joy and appreciation if they didn't.
In a follow-up email, she also noted that she donates "a significant chunk of my proceeds every month to other sites I want to support." She added, "I'm a believer in the patronage model, whatever shape it takes."
All that's well and good, but a simple disclaimer to this effect would surely go a long way in disarming criticism of Ms. Popova.
UPDATE 2/15: On Thursday, Ms. Popova decided to add a note on her donation page indicating that she receives money from affiliate links. The move came after GigaOm's Matthew Ingram tweeted about the FTC's disclosure requirement for compensation.
@mathewi Thanks for the piece, Matt. It didn't even occur to me until now that people cared. I've just added a note on the donation page.

— Maria Popova (@brainpicker) February 14, 2013
Despite ongoing backlash about failure to acknowledge using affiliate links, Ms. Popova said in response, "It didn't even occur to me until now that people cared."
Here is the amended text on her donation page:
"Keeping it all ad-free — which is important to me and, I believe, to you — means it's subsidized by the generous support of readers like you: directly, through donations, and indirectly, whenever you buy a book on Amazon from a link on Brain Pickings, which gives me a small kick-back."