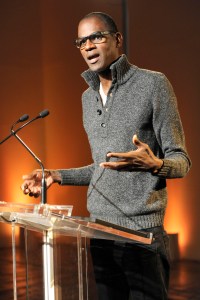 The Los Angeles–based painter Mark Bradford has parted ways with Sikkema Jenkins & Co. after nine years with the Chelsea gallery.
Senior Partner Michael Jenkins confirmed the departure today. "We still have a very good relationship," he added. "I think very highly of Mark, he's a great artist."
Mr. Bradford's studio was unavailable for comment and Mr. Jenkins says he doesn't know where Mr. Bradford is going.
The artist has had three solo shows with Sikkema Jenkins, the last of which opened Oct. 27 of last year, just days before Hurricane Sandy hit New York. Speaking shortly after the storm, Mr. Jenkins said he waded into the gallery as Chelsea flooded to check on Mr. Bradford's paintings, none of which were damaged.
Mr. Bradford, a 2009 MacArthur "genius," is currently featured in a group show at Brandeis University's Rose Art Museum, in Waltham, Mass.