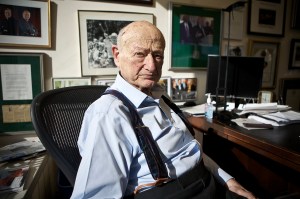 At 2 a.m. this morning, former Mayor Ed Koch passed away due to congestive heart failure. He was 88, outspoken, and if you listen to some of New York City's leading political figures, "an irrepressible icon," "larger than life" and "part of the fabric of New York."
"I'm expressing my condolences on behalf of all 8.4 million New Yorkers, and I know so many of them will be keeping Mayor Koch and his family and friends in their thoughts prayers," Mayor Michael Bloomberg announced in a statement. "As we mourn Mayor Koch's passing, the flags at all City buildings will be flying at half-staff in his memory."
Mr. Bloomberg further reflected on the meaning of Mr. Koch's passing and the footprint on the city the former mayor leaves behind.
"New York City lost an irrepressible icon, our most charismatic cheerleader and champion," he said. "He was a great mayor, a great man, and a great friend. In elected office and as a private citizen, he was our most tireless, fearless, and guileless civic crusader. Through his tough, determined leadership and responsible fiscal stewardship, Ed helped lift the city out of its darkest days and set it on course for an incredible comeback. We will miss him dearly, but his good works – and his wit and wisdom – will forever be a part of the city he loved so much."
It's not just Mr. Bloomberg who has warm thoughts on Mr. Koch and his contributions to New York City, of course. So throughout the morning, as we receive statements from those hoping to fill Mr. Bloomberg's shoes, this post will continue to be updated.
For her part, the woman Mr. Koch had endorsed to be the next occupant of Gracie Mansion, Council Speaker Christine Quinn, was particularly effusive about Mr. Koch's legacy, saying it "stood taller than the bridge that bears his name":
"All of New York City is in mourning today as we say goodbye to a great mayor, a great man, and a great friend.

Ed Koch dedicated his life to the five boroughs. He loved this city fiercely and it loved him back. He saved us from the brink of bankruptcy, raised our spirits, and restored our city's reputation in the world. He rebuilt our crumbling infrastructure, adding more than 150,000 units of affordable housing. And after leaving office he continued to make New York a better place, inspiring us through his writing, his activism, and his commitment to change.

But he was more than just the sum total of his accomplishments. Mayor Koch was larger than life. He stood taller than the bridge that bears his name. His sense of humor and tenacious spirit personified this town. Ed Koch was New York.

I can remember seeing him on TV when I was a little girl and thinking to myself, 'If I could ever meet him it would be a dream come true.'

Years later when I was working at the Anti-Violence Project, I was in the midst of a very public battle with City Hall. Mayor Koch called me out of the blue. I had never spoken to him in my life. He told me, "You're doing the right thing. Don't back down, and call me if I can do anything."

Mayor Koch was never one to back down from a fight, and never above reaching out to a stranger to offer his help. Throughout my years in government, some of my proudest and fondest moments have been working and fighting by his side.

He once said, 'I don't want to leave Manhattan, even when I'm gone. This is my home.' Ed Koch will never leave New York City. He will exist forever in our hearts, and in the millions of lives he touched.

On behalf of a grateful city, I want to extend my deepest condolences to his family, his friends, and all those who loved him."
A former official in the Giuliani administration, Joe Lhota passed along some of his personal memories of Mr. Koch:
"Ed Koch's bold personality was perfectly emblematic of New York City: loud, funny, out-going and in-your-face. When he walked the streets of New York, with his arms stretched above his head, yelling: 'How am I doing'? it wasn't just a rhetorical question – – he really wanted the people to answer. Why? He wanted to always do a great job serving the City he loved.

For me, I will always remember Mayor Koch holding press conferences without his jacket, in a wrinkled shirt with his sleeves rolled-up, jousting with reporters. He loved every minute of it. He always represented the hard-working people of the City. Personally, I will always be thankful for Koch's leadership in bringing the City out of the Financial Control Period. He was flawless in getting the City back on its feet."
While Doe Fund Founder George McDonald kept things simple with "Mayor, you did just great!":
"Mayor Koch was the quintessential New Yorker and a man whose life was synonymous with the character, complexity and magic of our great city. Today, we mark his passing with a final answer to his familiar refrain: How'm I doing? Mayor, you did just great! Rest in peace."
Former Comptroller Bill Thompson said Mr. Koch "embodied the spirit of our city":
"Today, our city mourns a great New Yorker. Throughout his life, Ed Koch embodied the spirit of our city. As mayor, Koch navigated New York through treacherous times and seemingly impossible challenges with humor, determination and strength. We've lost an amazing New Yorker, but his indomitable spirit will be carried with each of us whose lives he touched and all those he inspired."
Manhattan Media's Tom Allon looked at the former mayor's passion for reviewing movies:
"New York has not only lost an iconic mayor who led the city's renaissance after the 1970s fiscal crisis, but a great American who loved his country and who loved Israel and was never shy to express his feelings about those who he thought were a threat to his beloved city, nation or Israel.

"Koch had an exemplary post-Mayoral life where he found meaning and passion in various new roles from attorney to television personality to movie critic. It was in the latter role that I got to know him well: as the editor of his weekly film reviews in the 1990s I witnessed Koch's passion for telling our newspaper readers whether the movies he saw were worth the price of admission.

"When he started, he told me his ground rules: no movie openings, no talk of cinematography, just a straight ahead review of whether the film told a good story and was worth the viewer's time and expense. That summed Koch up: he was honest, blunt and told it like it was.

"New York will miss him and his unique style."
Comptroller John Liu labeled Mr. Koch a "true New Yorker":
"Ed Koch was a true New Yorker, outspoken and feisty to the very end. He lived a great life of 88 years, leaving an indelible imprint on the City, and we will miss him."
Noting he "often disagreed with Ed," Public Advocate Bill de Blasio touted the Koch administration's accomplishments:
"When Ed Koch said 'How'm I doing?' it was both a boast and an act of humility. That simple phrase captured the fact that he was deeply connected to everyday New Yorkers. And that connection fueled his urgency and his greatness. He helped bring us out of the fiscal crisis, he helped bring the South Bronx back, he helped give us hope again—all because it was personal for him. He simply wouldn't let New York City fail. Like many, I often disagreed with Ed. But I also got to know and learn from this great man, with a heart and mind as big as the city he loved. Ed Koch is gone now, but his energy and inspiration can never be forgotten by those of us lucky enough to have known him."