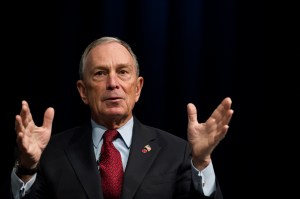 Mayor Michael Bloomberg has emerged as one of the nation's loudest gun control advocates in recent months. Unsurprisingly, in his response to President Barack Obama's State of the Union address last night, the mayor focused on the Commander in Chief's push for stronger gun control laws including background checks and a ban on high-capacity magazines.
"Tonight, President Obama made a clarion call to fix the nation's broken gun laws," Mayor Bloomberg said in a statement. "In a chamber filled with both survivors of gun violence and the men and women of the United States Congress who have the power to improve our gun laws, President Obama implored both parties to come together on an issue that has the support of the vast majority of Americans: keeping guns out of the hands of dangerous people."
Mayor Bloomberg also praised the president for expressing support for another one of his pet issues–immigration reform.
"I was also very encouraged that the President has placed immigration at the forefront of his jobs agenda," said Mayor Bloomberg. "Reforming our immigration laws is critical to job creation and securing our nation's economic future. I am more hopeful than ever that the President can work with leaders of both parties to achieve meaningful reform on these profound issues."