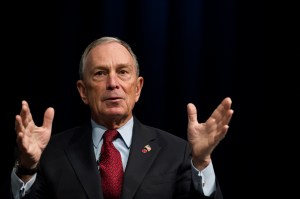 Mayor Michael Bloomberg delivered one of the eulogies at former Mayor Ed Koch's funeral in Manhattan this morning and he praised his predecessor for an attitude "full of humor and chutzpah" that "embodied the spirit of New York City" and made him "our City's quintessential Mayor." In his speech, Mayor Bloomberg also credited Koch with laying the foundation that allowed subsequent mayor's to make the five boroughs "great again." In a nod to the setting of the funeral, the Jewish Temple Emanu-El, Mr. Bloomberg compared Koch's achievements to the story of Moses.
"I've been doing my biblical research, and I think it's only fitting that this week's Torah portion is about Moses leading the Jews out of bondage in Egypt. Now, Ed, in his own way, was our Moses. Just with a little less hair," Mayor Bloomberg said. "He led us out of darkness and he gave us hope. And while he may not have parted the Red Sea, he did break a subway strike by standing on a bridge and shouting words of encouragement."
Mayor Bloomberg continued his biblical comparison with a quip about Koch's fondness for the spotlight.
"Just as Moses died right before he reached the Promised Land, Ed died hours before the documentary about him opened in theaters. Leave it to Ed to find the best way to maximize publicity for a film about his life," said Mayor Bloomberg. "No one ever enjoyed the theater of politics more than Ed. And no one – no one – was ever better at it."
In his eulogy, Mayor Bloomberg also noted he was "particularly thrilled" that Koch "picked my neighborhood corner shul for his funeral" making for an easy commute from his Upper East Side townhouse. He also said the location was fitting given its proximity to the Queensboro Bridge, which Mayor Bloomberg named after Koch in 2011. He described an anecdote meant to demonstrated the joy Koch felt having a part of the city christened in his honor. 
"I think there's no doubt that Ed is beaming looking down on all of us assembled here and I think it is fitting that he picked this place just a few blocks from a certain East River Span. … Before last year's State of the City speech, if you remember, we ran a video that included a shot of Ed standing at that entrance ramp, yelling to all the cars that approached, 'Welcome to my bridge! Welcome to my bridge!' Mayor Bloomberg said. "Needless to say, it brought down the house. But what most people don't know is, after the cameras stopped rolling, Ed stayed out there in the freezing cold for another 20 minutes, yelling 'Welcome to my bridge!'"
Mayor Bloomberg also shared another story about a video Koch filmed for the city where he was asked if he would ever consider living in another locale.
"Ed smiled, then he looked straight into the camera and said: 'The only place I would accept is heaven; nothing else would take the place,'" said Mayor Bloomberg.
After telling this tale, Mayor Bloomberg concluded with a final biblical joke.
"It's not hard to picture Ed getting up to heaven, meeting God, and saying with a big smile, 'How'd I do?' And there is no doubt–Cardinal, you're not going to be happy about this," said Mayor Bloomberg apologizing to the Archbishop of New York, who was also in attendance. "But I'm telling you, I've talked to God and I know what's happening–God said what so many people around the city and the country, and all over the world, have been saying over the last few days: Ed, you did great. You really did great."