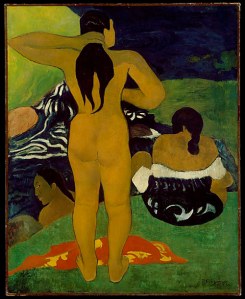 Today an exhibition of 130 works from the collection of the Metropolitan Museum of Art opened at Beijing's National Museum of China. The show focuses on depictions of nature by artists in Europe, the Near East and America, and its contents range from a Mycenaean vessel dated to around 1200–1100 B.C. (showing a cute, though sort of creepy, little octopus) to two paintings by Vincent van Gogh, including his iconic Cypresses (1889). The exhibition arrives in China after visiting the Tokyo Metropolitan Art Museum.
Among the other treasures making the trip to Beijing are Rembrandt's 1654 painting Flora, a 16th-century tapestry bearing the image of shepherds and Gauguin's Tahitian Women Bathing (1892). It sounds like a great bunch of work.
The National Museum has been on a touring-exhibition tear of late, The New York Times reports:
In less than two years since it opened after its renovation the museum — the largest in the world under one roof at two million square feet — has featured a number of exhibitions from prominent museums, including the Uffizi Gallery, the British Museum and the Victoria and Albert Museum.
The Times notes that the museum has a permanent exhibition called the "The Road to Rejuvenation," "which glorifies Communist China while avoiding accurate depictions of the era," leading one scholar quoted in the article to say that the presence of the Met's show could legitimize such propaganda.
At a press conference in Beijing, The Times reports, the Met's director, Thomas Campbell, said, "We see this as an opportunity — a central space in Beijing to share the treasures of the Metropolitan Museum with a broad Chinese audience."
The show, which was organized by Peter Barnet, the curator in charge of medieval art and the Cloisters at the Met, runs through May 9, so these works will be back in New York soon enough.