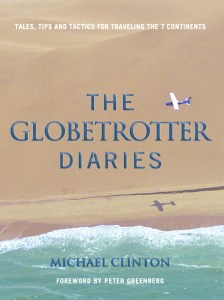 Michael Clinton, the president, marketing and publishing director at Hearst Magazines, is also a self-described "globetrotter." Who would have guessed? Because rich guys never like to travel. His new book, The Globetrotter Diaries, a coffee table tome about his life as a traveler, hits shelves today.
The book, which features "tales, tips and tactics for traveling the 7 continents," draws on Mr. Clinton's experiences visiting over 122 countries (as his bio explains) to give a biography of one Hearst's top brass, and includes travel tips from his friends and "fellow globetrotters," which in this case means some of Hearst's top editors (as well as a handful of non-media folks). Pamela Fiori, the former editor in chief of Town and Country, Kate White, Cosmo's former editor, Elle editor in chief Robbie Myers and Travel and Leisure editor in chief Nancy Novogood provide common sense tips–"put your itinerary in a flexible binder," Ms. White advises–for "armchair travellers, fellow globetrotters and dreamers," as Mr. Clinton sees the book's audience.
To compile the book, Mr. Clinton dug through his old journals dating back to college, as well as email dispatches from the road.
"In my early days, I started out as a journalist, so I knew I had the skills deep down," Mr. Clinton, who started his 30-year magazine career in editorial at Fairchild Publications' DNR (which folded in late 2008), said. "Everyone has a weekend hobby. Mine is writing." And, apparently, globetrotting.