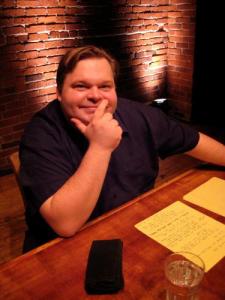 Looks like Jonah Lehrer isn't the only fabulist making some money by talking about his journalistic fall from grace. Monologist Mike Daisey, who came under fire last year when This American Life discovered factual inaccuracies and fabrications in an episode that Mr. Daisey adapted from his monologue The Agony and the Ecstasy of Steve Jobs, is back to talk about lying.
Next month, coincidentally one year after This American Life issued a retraction, Mr. Daisey will perform a new monologue called On Lying and the Nature of Magic at Joe's Pub at The Public Theatre (where he preformed The Agony.. last winter, as well as some new material since). 
"On this night he''ll examine the social codes that govern lying, the uncomfortable truths of how lying interlaces with fiction and story, and what it means when we say we're telling the truth," the show's description reads. "Picasso famously said, "art is a lie that tells the truth"…if he even ever really said that at all. For one night, we'll put our cards on the table and try to work out the story beneath the story."
Tickets, which go on sale tomorrow, are $25 each and Mr. Daisey expects them to sell out quick.
"It is going to be fucking great…unless I am lying about that. ;)" Mr. Daisey wrote in an email announcement. Lying: not only good fodder for speeches and shows, also funny!