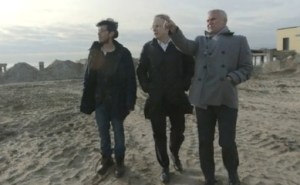 The Museum of Modern Art has put out a call to its network of artists, architects, designers to help rebuild Rockaway Beach, which is still struggling to recover after having been hammered by Hurricane Sandy.
"We are asking artists, architects, designers, urban planners, and all others to present ideas for creating social spaces, new housing models, urban interventions, and other ideas related to rebuilding and protecting the shoreline," MoMA PS1 Director Klaus Biesenbach wrote in an e-mail Friday.
From the release:
Twenty-five selected proposals will be presented publicly in the press and social media and on-site in a series of live presentations and lectures organized by MoMA PS1 in its temporary relief and cultural VW Dome 2 in Rockaway Beach during April 2013.

A jury including curators Barry Bergdoll, Klaus Biesenbach, Peter Eleey, Pedro Gadanho, Niklas Maak, Hans Ulrich Obrist, and other influential architects, urban planners, and designers will make the selection from the open call.
There's also a video. In it, Mr. Biesenbach sits before an American flag with Patti Smith.
"Over the summer we were saying that the Rockaways was like New York in the '70s," he says. "Now we're saying it's like the world is going to be in 10 years."
Watch below:
[vimeo http://www.vimeo.com/60212495 w=400&h=300]