Morning News Digest: Feb. 1, 2013
By Matthew Arco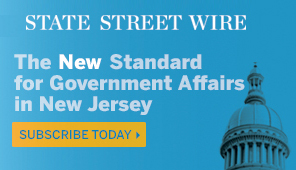 Christie Chamber Keynote: Compromise not division
WASHINGTON, D.C. – Political junkies seeking intensification of a coming contest instead received Gov. Chris Christie's thoughts on compromise and the virtues of cooperation.
"The country just got through a contentious election," said the governor, as he faces his own 2013 re-up. (Pizarro/PolitickerNJ)
http://www.politickernj.com/62837/christie-chamber-keynote-compromise-not-division
Weinberg: Menendez Dominican scandal a "distraction"
Senate Majority Leader Loretta Weinber said today that the burgeoning scandal surrounding U.S. Sen Bob Menendez is a "distraction" from what's important to Garden State residents right now.
"It's very distracting," Weinberg said while aboard the New Jersey Chamber of Commerce train to Washington D.C. "Certainly I haven't seen anything that makes anything true. Whne there are side issues like this they are distracting." (Isherwood/PolitickerNJ)
http://www.politickernj.com/62836/weinberg-menendez-dominican-scandal-distraction
The Sweeney Compendium: Senate Prez offers fundraiser to Buono
WASHINGTON D.C. – The bar was a press of business and pleasure and people looking increasingly confused as they tried to figure out which was which.
"They ought to have this in Atlantic City," said state Senate President Steve Sweeney (D-3), who wasn't on the Chamber Train but who received his New Jersey cohorts on the carpet of the Marriot. (Pizarro/PolitickerNJ)
http://www.politickernj.com/62833/sweeney-compendium-senate-prez-offers-fundraiser-buono
Buono's train on the Chamber Train
EN ROUTE TO WASHINGTON – The front line players with state Sen. Barbara Buono (D-18) joined the senator on the train to Washington, D.C. as Buono vigorously made the rounds.
They're the early political brain trust around the senator who appears well positioned to play a strong role in her campaign for governor. (Pizarro/PolitickerNJ)
http://www.politickernj.com/62826/buonos-train-chamber-train
On the train, Menendez story undercuts developing gubernatorial contest
EN ROUTE TO WASHINGTON – Buzz.
It's what results from that diabolically irresistible cocktail of politics, business and booze that is this year's Walk to Washington sponsored by the New Jersey Chamber of Commerce. (Pizarro/PolitickerNJ)
http://www.politickernj.com/62823/train-menendez-story-undercuts-developing-gubernatorial-contest
Christie: 'Fun' Oval Office chat with Obama
New Jersey Gov. Chris Christie offered some insight into his meeting with President Barack Obama at the White House when he was seeking aid after Hurricane Sandy.
"The president stood up for this region when we needed to be stood up for," Christie said at a New Jersey Chamber of Commerce dinner in Washington on Thursday night. "He put aside partisan politics." (Gibson/Politico)
www.politico.com/story/2013/01/christie-fun-oval-office-chat-with-obama-87047.html
Union urges Christie to sign Internet betting bill
ATLANTIC CITY — The president of Atlantic City's largest casino workers' union is calling on Gov. Chris Christie to sign New Jersey's Internet gambling bill.
Bob McDevitt, head of Local 54 of the Unite-HERE union, says the extra money online betting would bring in could make the difference between two or more casinos surviving or having to close. (Parry/AP)
http://www.northjersey.com/news/Union_urges_Christie_to_sign_Internet_bet_bill.html
Christie appearing Monday with Letterman
He's belted out a Springsteen duet with Jimmy Fallon, promoted the state on The Daily Show and mocked himself on Saturday Night Live.
Now Governor Christie will make his first appearance on "Late Show" with David Letterman next week. Also appearing on the show is Mariah Carey, Pauley Perrette who plays Abby Sciuto on "NCIS," actor Eric Stonestreet from "Modern Family," comedian Joel McHale and Academy Award nominee Sally Field. (Linhorst/The Record)
http://www.northjersey.com/news/state/Christie_appearing_Monday_with_Letterman.html
Christie: Use storm recovery money wisely
WASHINGTON — Pushing a theme of bipartisanship and cooperation, Gov. Chris Christie told a gathering of business leaders, lobbyists and political leaders that with their focused efforts, the recently authorized federal storm recovery money "will be the best $50 billion this Congress has ever spent in their lifetimes."
Speaking to a crowd of more than 900 at the New Jersey Chamber of Commerce Walk to Washington event, Christie once again pushed his theme of the need for compromise and integrity among politicians, saying that only through working together will the needed rebuilding of New Jersey following superstorm Sandy be completely effective. (Shoonejongen/APP)
http://www.app.com/article/20130131/NJNEWS1002/301310156/Christie-Use-storm-recovery-money-wisely?nclick_check=1
Christie vs. Buono race gains steam with train ride to Washington
Every four years, the annual New Jersey Chamber of Commerce train trip to the nation's capital marks the official start of the governor's race.
That was especially true Thursday, when Democrats declared the general election on and coalesced around state Sen. Barbara Buono, the only major Democrat committed to take on Gov. Chris Christie. (Portnoy/Star-Ledger)
http://www.nj.com/politics/index.ssf/2013/02/christie_vs_buono_race_gains_s.html#incart_river
Menendez, friend keep low profile in wake of accusations
U.S. Sen. Robert Menendez (D-N.J.) may have violated Senate rules by failing to promptly pay for flights worth almost $60,000 on a private jet owned by a wealthy supporter, the former chief counsel for the Senate ethics committee said Thursday.
Robert Walker, an attorney who served as chief counsel and staff director for both the Senate and House ethics committees, said the rules call for reimbursements of such flights to be made promptly. And more than two years, he said, is not prompt. (Star-Ledger)
http://www.nj.com/politics/index.ssf/2013/02/menendez_friend_keep_low_profi.html#incart_river
Gov. Christie to spend weekend at Super Bowl in New Orleans
Call it a warmup.
Gov. Chris Christie said today he plans to spend the weekend in New Orleans for Super Bowl XLVII. (Hutchins/Star-Ledger)
http://www.nj.com/politics/index.ssf/2013/01/gov_christie_to_spend_weekend.html#incart_river
Leader of watchdog group says Menendez violated ethics rules
The head of a nonpartisan watchdog group said today that U.S. Sen. Robert Menendez violated ethics rules and might have broken the law by failing to pay for two flights on a private jet in 2010 until earlier this month.
"He didn't pay for it at the time, and he didn't ask the ethics committee's permission and then disclose it," Melanie Sloan, executive director of Washington-based Citizens for Responsibility and Ethics, said. "He clearly violated ethics rules and potentially criminal law, and he waited until he got caught to try to fix it." (Friedman/Star-Ledger)
http://www.nj.com/politics/index.ssf/2013/01/leader_of_watchdog_group_says.html#incart_river
Struggling casino awaits Christie decision on I-gaming bill
ATLANTIC CITY – A Feb. 7 deadline for Gov. Christie to sign off on a bill legalizing Internet gambling from computer servers based here is creating a sense of urgency at the Shore's smallest casino, the struggling Atlantic Club.
Its prospective buyer – Rational Group US Holdings, parent company of the websites PokerStars and Full Tilt Poker, which combined have tens of millions of worldwide subscribers – plans to establish a headquarters here, the first that would merge a land-based U.S. casino with an online-gaming company. But the purchase, for an undisclosed price and pending approval by New Jersey regulators, hinges on the I-gaming bill's becoming law. (Parmley/Inquirer)
http://www.philly.com/philly/business/20130201_Struggling_casino_awaits_Christie_decision_on_I-gaming_bill.html
Rowan University expansion increases tensions with Glassboro residents
Robert Hess leaves two trash bins outside his house: one for his family and another for Rowan University students who live nearby.
A few years ago, his son, then 5, was playing barefoot in the front yard when he stepped on a broken bottle, presumably left by an inconsiderate student. "I remember pulling glass out of his feet," Hess, 38, said Tuesday. (Seidman/Inquirer)
http://www.philly.com/philly/education/189313931.html
Runyan says he's undecided on adding new gun limits
U.S. Rep. Jon Runyan says he has not decided whether to support any of the new gun restrictions being proposed in Washington, saying Wednesday that existing laws should be better enforced.
The New Jersey Republican made the remarks after hosting a "gun summit" with Burlington County Sheriff Jean Stanfield to gather ideas from 26 invited law enforcement officers, education officials, and mental-health experts. (Hefier/Inquirer)
http://www.philly.com/philly/news/politics/congressional/20130131_Runyan_says_he_s_undecided_on_adding_new_gun_limits.html
Trenton airport ramps up flight schedule ahead of Super Bowl
Though low-cost flights to Fort Myers, Fort Lauderdale and Tampa aren't novel to New Jersey travelers, a Mercer County official said Frontier Airlines' launch of those routes from Trenton-Mercer Airport throughout Super Bowl weekend will entice local travelers to choose the region's airport over Atlantic City's offerings through Spirit Airlines
"When the flights right now are leaving Trenton at 90 percent of their 138-seat capacity to Orlando and coming back with 125 seats filled, I think that's an indication that people think this is the right airport for them," Mercer County Executive Brian Hughes said. "Spirit and Atlantic City have some good options and more destinations than we have, but I think in the long run Frontier has the better business model." (Eder/NJBIZ)
http://www.njbiz.com/article/20130131/NJBIZ01/130139958/Trenton-airport-ramps-up-flight-schedule-ahead-of-Super-Bowl
From the Back Room
Menendez flees media horde
U.S. Sen. Bob Menendez, under fire for his alleged solicitation of underage prostitutes while traveling in the Dominican Republic, was pursued out of the congressional dinner in Washington D.C tonight by a horde of state and national media.
But the senator proved quicker than the press corps, heading directly for an elevator to be whisked away. (PolitickerNJ)
http://www.politickernj.com/back_room/menendez-flees-media-hoard
Christie's slap at Sacco
It can't be Ray McDonough, he belongs to Nick Sacco, a Hudson County Democratic Party source told PolitickerNJ.com last night.
But sure enough, this morning, before the Chamber Walk to Washington, Harrison Mayor Ray McDonough, a veteran Democrat, issued his formal endorsement of Republican Gov. Chris Christie.
"Sacco's got him before a firing squad right now," the source cracked, as Democrats speculated that McDonough folded for Christie in part because his town depends on transitional aid. (PolitickerNJ)
http://www.politickernj.com/back_room/christies-slap-sacco
Smackdown, old school
U.S. Sen. Frank Lautenberg, who has made no secret of his contempt for Newark Mayor Cory Booker's announcement that he plans to run for Senate in 2014, wasted little time during his congressional dinner speech in swiping at the mayor with the Hollywood rolodex, fegning surprise that Booker chose not to attend the dinner.
"I thought traveling time out of the city was one of his favorite activities," Lautenberg said. "Perhaps we are too close to Newark." (Isherwood/PoliticerNJ)
http://www.politickernj.com/back_room/smackdown-old-school
Opinion
The poor pay higher tax rates, and Christie's made the problem worse: Editorial
We often hear about how New Jersey's wealthiest families pay the lion's share of income taxes, and that's true. The income tax is designed to be progressive. But when you look at the larger picture and combine all state and local taxes, it's the poor who pay the largest share of their income.
That's just wrong. New Jersey has long been a state of extremes, with enormous wealth and deep poverty — and a middle class trying to hold its ground. Gov. Chris Christie has chosen to deepen that divide by protecting the rich against any tax hikes, while scaling back crucial tax benefits for the poor. (Star-Ledger)
http://blog.nj.com/njv_editorial_page/2013/02/the_poor_pay_higher_tax_rates.html