Morning News Digest: Tuesday, February 19, 2013
By Matthew Arco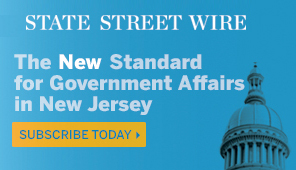 Atlantic County Freeholder Garrett announces his candidacy for AC Mayor
Atlantic County Freeholder Charles Garrett today announced his intention to seek the Democratic nomination to run for the office of Mayor of the City of Atlantic City.
"For far too long Atlantic City has been the prime example of a tale of two cities," said Garrett, who's challenging incumbent Mayor Lorenzo Langford. "It is a city where billion dollar developments are a stone's throw from residential neighborhoods that are plagued with the scourge of drugs, violent crime, and rampant unemployment." (Pizarro/PolitickerNJ)
http://www.politickernj.com/63320/atlantic-county-freeholder-garrett-announces-his-candidacy-ac-mayor
Who is New Jersey's favorite president?
New Jerseyans evidently prefer presidents who served in their own lifetimes as their favorites, opting for a what have you done for me lately standard rather than foundational significance, according to this morning's President's Day Monmouth University/Asbury Park Press Poll.
But surely American leaders of the last years don't trump Washington, Jefferson, Lincoln and FDR? Pizarro/PolitickerNJ)
www.politickernj.com/63311/who-new-jerseys-favorite-president
Playgrounds to honor Conn. victims in Sandy towns
TRENTON, N.J. (AP) — The state's largest firefighter union is remembering the 26 victims of December's Sandy Hook Elementary School shooting massacre in Connecticut by building a playground to honor each one in a community recovering from Superstorm Sandy.
New Jersey and New York will get 10 playgrounds each, and Connecticut will get six. Each playground will link the two tragedies with the shared name Sandy to create memorials for recovery and hope. (Delli Santi/AP)
http://www.google.com/hostednews/ap/article/ALeqM5hTi58mjmn9wTbuM9Hbittovzl8Ug?docId=90247b55e99448b8be0dfe45acc8e83e
Despite Sandy, poll finds vacationers planning to go to Shore
Hurricane Sandy may have torn away houses and boardwalks and dumped a roller coaster into the ocean, but most of the people who traditionally visit the Jersey Shore say they will be back this summer.
"The summer tourist season seems surprisingly stable," said David Relawsk, director of the Rutgers-Eagleton Poll, which released the finding Monday. (O'Reilly/The Inquirer)
http://www.philly.com/philly/news/local/20130219_Despite_Sandy__poll_finds_vacationers_planning_to_go_to_Shore.html
NJ halts competition on Top 10 beaches after storm
SEASIDE HEIGHTS, N.J. – As Jersey shore towns announce plans to work together this summer to welcome tourists back in the aftermath of Superstorm Sandy, a new poll finds that more than three-quarters of regular visitors to the shore say they'll be back again this year.
The Top 10 Beaches contest will not have voting this year that pits one town against another for bragging rights at the shore. (Parry/AP)
http://www.philly.com/philly/news/new_jersey/20130218_ap_njhaltscompetitionontop10beachesafterstorm.html
New Jersey water-quality unit's future looks iffy
Thirty years after the New Jersey Legislature created an independent body to determine limits on pollutants in tap water, there is growing concern about its future.
The Drinking Water Quality Institute – whose schedule is determined by the state Department of Environmental Protection – has not met in more than two years following a fight over tightening limits on industrial chemicals. And legislation has been introduced that would add representatives of industrial and chemical companies to the board and press the institute to consider industry-funded research in its decision making. (Obsborne/The Inquirer)
http://www.philly.com/philly/news/politics/nj/20130219_Tap_water_delinquency.html
Wake-up call: American Dream project needs new look before Super Bowl
Maybe it's nothing more than lipstick on a pig, but New Jersey officials want to see a different face on the exterior of the long-stalled American Dream super mall project before next year's Super Bowl at MetLife Stadium.
The sprawling, unfinished structure once known as Xanadu — just over a football field-length away from MetLife Stadium — will not be completed before the big game next February, developers concede. But with construction slated to finally resume later this year, the state says it is looking for at least a change in the look of the garish and incomplete entertainment and retail complex before guests come to town. (Sherman/Star-Ledger)
http://www.nj.com/news/index.ssf/2013/02/xanadu_waiting_to_be_reborn_as.html#incart_m-rpt-1
Christie's Decision on Health-Benefits Exchange Probably Won't Change Insurance Choices
After years of debate over whether the state would play an active role operating a health-benefit exchange under the Affordable Care Act, Gov. Chris Christie's decision last Friday to completely hand over responsibility to the federal government will probably make little difference in determining what insurance plans will be available in New Jersey starting January 1.
Some expressed concern that New Jersey insurers will now have to deal with two different layers of government bureaucracy — which might eventually lead state officials to consider taking a more active role in the exchanges. The decision by Christie applies only to 2014 and could be revisited. (Kitchenman/NJSpotlight)
http://www.njspotlight.com/stories/13/02/18/christie-s-decision-on-health-benefits-exchange-probably-won-t-change-insurance-choices/
Stakeholders Look to Get Solar Sector Off Roller Coaster
With growth in the solar industry possibly slowing, executives and state officials have begun debating how to end the boom-and-bust cycle that has characterized the sector in recent years. (Johnson/NJSpotlight)
http://www.njspotlight.com/stories/13/02/18/stakeholders-look-to-get-solar-sector-off-rollercoaster/
With N.J. leaving exchange to the feds, hospital CEOs await what's next
New Jersey is now one of 26 states that will rely on the federal government to set up and run its health insurance exchange, and the level of concern from health care executives varies.
Joseph A. Trunfio, president and CEO of Atlantic Health, said Gov. Chris Christie's decision to leave the exchange to the federal government was the right call. (Callendo/NJBIZ)
http://www.njbiz.com/article/20130218/NJBIZ01/130219809/With-NJ-leaving-exchange-to-the-feds-hospital-CEOs-await-whats-next
Delay on credit card surcharge vote not expacted to thwart bill's passage
The state Legislature's efforts to ban credit card surcharges hit a last-minute delay last week, but a key sponsor still expects swift passage of the legislation.
The Assembly had been scheduled to vote on the ban Thursday, which would have sent the measure to Gov. Chris Christie's desk. But Assemblyman Gary S. Schaer (D-Passaic) said he and Speaker Sheila Y. Oliver (D-East Orange) decided at the last minute to delay the vote. (Kaltwasser/NJBIZ)
http://www.njbiz.com/article/20130218/NJBIZ01/130219808/Delay-on-credit-card-surcharge-vote-not-expacted-to-thwart-bills-passage
From the Back Room
Langford makes it official
Atlantic City Mayor Lorenzo Langford announced today that he will seek another term in office.
Langford told WPG's Harry Hurley that he will seek another four-year term in November. (Isherwood/PolitickerNJ)
http://www.politickernj.com/back_room/langford-makes-it-official
Buono grabs Garden State Equality endorsement
State Sen. Barbara Buono on Saturday picked up the endorsement of Garden State Equality, the state's largest lesbian, gay, bi-sexual and transgender advocacy group.
The endorsement came on the one year anniversary of Gov. Chris Christie's veto of a measure that would have legalized same sex marriage. (Ishwerwood/PolitickerNJ)
http://www.politickernj.com/back_room/buono-grabs-garden-state-equality-endorsement
Opinion
Stile: Lawmaker Schroeder casts votes, collects pay, refuses comment
Bob Schroeder, the embattled Republican assemblyman from Washington Township, sat alone at his desk in the State House last Thursday as his colleagues swarmed in clusters, gossiping and backslapping before the start of the voting session.
If he was humiliated at being ignored, he didn't show it. (Stile/The Record)
http://www.northjersey.com/news/opinions/political_stile/Stile_Lawmaker_Schroeder_casts_votes_collects_pay_refuses_comment.html
Editorial: N.J. should move fire district elections to invite more voter participation
Following the latest round of fire elections, we once again urge that balloting on spending millions and increasing tax rates coincide with the general election.
Ideally, fire districts in municipalities such as Hamilton where there are nine, count 'em nine, should be merged for efficiency and savings in the spirit of cooperative consolidation that's united Princeton. The archaic and arcane fire district division of New Jersey is but one more crosshatching of the state causing expensive duplication. (Times of Trenton)
http://www.nj.com/times-opinion/index.ssf/2013/02/editorial_nj_should_move_fire.html