Morning News Digest: Wednesday, February 20, 2013
By Matthew Arco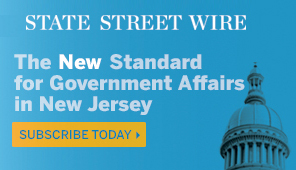 'Putting Essex First:' Christie and Dems decry partisanship at Joe D's state of the county
CEDAR GROVE – It was a gathering of good and dear friends, whose commitment to public service, to hear them tell it, eclipsed the rather shallow designations of political parties and the dimmest suggestions that 2013 is a gubernatorial election year.
"You worked with President Obama and Congress to secure $60 million in Hurricane Sandy relief. We all know you will continue to rebuild," Democratic Essex County Executive Joe DiVincenzo told GOP Gov. Chris Christie. (Pizarro/PolitickerNJ)
http://www.politickernj.com/63348/putting-essex-first-christie-and-dems-decry-partisanship-joe-d-event
Poll: Christie approval at 74%
Gov. Chris Christie's approval ratings – and the percentage of voters who say he deserves re-election – remain high, according to the latest Quinnipiac University poll.
A poll issued Wednesday puts Christie's approval rating at a record-breaking 74 – 22 percent, the highest of any New Jersey governor in 17 years of Quinnipiac surveys. Voters also say 71 – 23 percent that Christie deserves four more years in the Statehouse. (PolitickerNJ)
http://www.politickernj.com/63349/poll-christie-approval-74
Revel to file for bankruptcy
The Associated Press is reporting that Atlantic City's newest casino, Revel, will file for bankruptcy in March.
According to the report the move will wipe out about two-thirds of its $1.5 billion in debt by converting more than $1 billion of it into equity to be paid to the casino's lenders. The pre-packaged bankruptcy will allow the casino to continue to operate under a restructured debt load. (Isherwood/PolitickerNJ)
http://www.politickernj.com/63347/revel-file-bankruptcy
Sweeney calls on both parties to forego donations from state cleanup contractors
Senate President Steve Sweeney is asking lawmakers, candidates and committees on both sides of the aisle to forego any campaign contributions from firms involved in the clean-up of Superstorm Sandy.
Sweeney believes that between questions that have arisen over the contracting for the clean-up and the nature of the storm itself, nobody involved in government should be profiting, Sweeney said today. (Isherwood/PolitickerNJ)
http://www.politickernj.com/63340/sweeney-calls-both-parties-forego-donations-state-cleanup-contractors
Chiesa: Mine Hill Fire Department treasurer charged with embezzling $75K
Attorney General Jeffrey S. Chiesa announced that the treasurer of the Mine Hill Fire Department was charged today with embezzling thousands of dollars from the fire department over the past two years.
Lisa Ayers, 39, of Mine Hill, was charged by complaint-summons with second-degree theft by unlawful taking. She was processed on the charge by State Police detectives at the Netcong Station of the New Jersey State Police. She was subsequently released without posting bail. The charge is the result of an investigation by the New Jersey State Police Official Corruption Bureau and the Division of Criminal Justice Corruption Bureau. (PolitickerNJ)
http://www.politickernj.com/63339/chiesa-mine-hill-fire-department-treasurer-charged-embezzling-75k
Update: Christie defends companies' donations to GOP governors group
On the same day that the U.S. Supreme Court agreed to consider a challenge to caps on federal political donations, Governor Christie defended contributions to a national Republican group by New Jersey companies that can't directly donate to him.
"Here's a news flash, there will be lots of money spent in the campaign and people will donate lots of money to both sides," Christie said Tuesday. "And the fact is that nothing that has been published in the last week or two has been groundbreaking, newsworthy or something people didn't already know." (Hayes/The Record)
http://www.northjersey.com/news/Christie_Donations_to_GOP_governors_group_not_a_cause_for_concern.html
Assembly panel seeks to compel treasurer to appear
TRENTON — Assembly Democrats may grant themselves subpoena power to compel the state treasurer to testify before the chamber's budget committee.
Gov. Chris Christie's treasurer, Andrew Eristoff, has declined four requests to appear before the committee since September. The panel wants Eristoff to provide updates on Superstorm Sandy relief funding, proposals for privatizing the state lottery and the state's ongoing budget shortfall. (APP)
www.app.com/viewart/20130220/NJNEWS11/302200029/Assembly-panel-seeks-compel-treasurer-appear
Mary Pat Christie's Sandy N.J. relief fund ready to give out money
As communities take up the arduous task of rebuilding after Hurricane Sandy, first lady Mary Pat Christie's relief fund is poised to begin distributing $32 million collected with help from the Christies' political and business contacts.
The grants committee of the Hurricane Sandy New Jersey Relief Fund will meet today to discuss proposals for the first $1 million it plans to release. Applications for the next pot of money — $5 million — are due March 15. (Portnoy/Star-Ledger)
http://www.nj.com/politics/index.ssf/2013/02/mary_pat_christies_sandy_nj_re.html#incart_river
Christie announces plans to rebuild 12.5 miles of Route 35 in Ocean County
This summer the state will start major reconstruction of a 12.5-mile stretch of Route 35 — from Point Pleasant Beach to the entrance of Island Beach State Park — to rebuild the state road seriously damaged by Hurricane Sandy, Gov. Chris Christie said today.
The $215 million project, scheduled to start in late June, will be funded with federal transportation money and expedites reconstruction plans for that road because of storm damage, he said. (Spoto/Star-Ledger)
http://www.nj.com/news/index.ssf/2013/02/christie_announces_plans_to_re.html#incart_river
New Jersey water-quality unit's future looks iffy
Thirty years after the New Jersey Legislature created an independent body to determine limits on pollutants in tap water, there is growing concern about its future.
The Drinking Water Quality Institute – whose schedule is determined by the state Department of Environmental Protection – has not met in more than two years following a fight over tightening limits on industrial chemicals. And legislation has been introduced that would add representatives of industrial and chemical companies to the board and press the institute to consider industry-funded research in its decision making. (Osborne/The Inquirer)
http://articles.philly.com/2013-02-19/news/37181739_1_water-standards-chemical-facility-water-supplies
Revel casino files for Chapter 11 bankruptcy
The company that owns Revel, the lavish yet financially troubled Atlantic City casino that opened just 10 months ago, announced Tuesday night that it is filing for bankruptcy protection.
In a statement just before 8 p.m., Revel AC Inc. said it had "reached an agreement with a majority of its lenders to significantly reduce its debt through . . . a prepackaged Chapter 11 bankruptcy filing." (Parmley/The Inquirer)
http://www.philly.com/philly/business/20130220_Revel_Gambles_on_Bankruptcy.html
NJ gov: I'll quickly sign recast Web gambling bill
LAVALLETTE, N.J. – Gov. Chris Christie said Tuesday that he will quickly sign an Internet gambling bill if lawmakers make the changes he wants to the legislation.
At an appearance in Lavallette, the governor said he could conceivably sign the bill the same day the Legislature approved those changes, or the next day, "depending on how my day is going." (Parry/AP)
http://www.philly.com/philly/business/20130219_ap_njgovillquicklysignrecastwebgamblingbill.html
Uncommon Assembly Vote Could Award Subpoena Power to Frustrated Budget Committee
Frustrated with continual rebuffs from the Christie administration, the state Assembly Budget Committee is planning to take the rare step of invoking a 60-year-old law that awards them subpoena power. (O'Dea/NJSpotlight)
http://www.njspotlight.com/stories/13/02/20/uncommon-assembly-vote-could-award-subpoena-power-to-frustrated-budget-committee/
Sandy Just a Harbinger of Worse Storms to Come, According to New Report
It is no secret that Hurricane Sandy wreaked havoc on New Jersey power's grid, leaving millions of customers without electricity — many for a week or longer. (Johnson/NJSpotlight)
http://www.njspotlight.com/stories/13/02/19/sandy-just-a-harbinger-of-worse-storms-to-come-according-to-new-report/
Shore highway rebuild is aggressive, but 'there's no other way,' expert says
The state will seek bids as soon as next month for an aggressive project to rebuild storm-battered stretches of Route 35, with construction to start and continue through peak summer months in hopes of restoring the busy Jersey Shore corridor as soon as possible.
The project, unveiled today by Gov. Chris Christie, aims to repair a 12.5-mile stretch between Point Pleasant Beach and the Berkeley section of Seaside Park, using more than $200 million in federal funds over two years, according to a news release. After suffering severe damage in Hurricane Sandy, the highway is slated to be rebuilt with features like pump stations and 24-inch-thick roadways, which will be three times the current thickness. (Burd/NJBIZ)
http://www.njbiz.com/article/20130219/NJBIZ01/130219777/Shore-highway-rebuild-is-aggressive-but-theres-no-other-way-expert-says-
From the Back Room
Christie to hold New York City fundraiser
Gov. Chris Christie will head to the Big Apple Thursday for a fundraiser at the Union League Club.
The $3,800-per-head cocktail party is sponsored by financier Ken Langone, hedge fund manager Stanley Druckenmiller and Christie-confidante and former law partner Bill Palatucci. The event is limited to 80 guests and is expected to raise at least $300,000. (Isherwood/PolitickerNJ)
http://www.politickernj.com/back_room/christie-hold-new-york-city-fundraiser
Why Oliver likely won't run for the U.S. Senate in 2014
Short of Newark Mayor Cory Booker imploding between now and 2014, or powerful Essex County Executive Joe DiVincenzo not running for re-election, Speaker Sheila Oliver (D-34) would have to go seriously rogue in order to run for the U.S. Senate.
Up for re-election in 2014, DiVincenzo wants to be able to run on the line with Booker in a Democratic Primary. (PolitickerNJ)
http://www.politickernj.com/back_room/why-oliver-likely-wont-run-us-senate-2014
Opinion
Sensible ways to curb gun violence: Opinion
As President Obama remarked in last week's State of the Union address, "It has been two months since Newtown. I know this is not the first time this country has debated how to reduce gun violence. But this time is different. Overwhelming majorities of Americans — Americans who believe in the Second Amendment — have come together around common-sense reform."
As a father, my heart breaks for the families who lost loved ones that tragic December day at Sandy Hook Elementary in Newtown, Conn. Twenty beautiful 6- and 7-year-olds were senselessly taken from this world, along with six courageous educators who sacrificed themselves in the protection of their students. (Greenwald/Star-Ledger Guest Column)
http://blog.nj.com/njv_guest_blog/2013/02/sensible_ways_to_curb_gun_viol.html
Governor should support affordable housing efforts
If we were preparing a report card on the governor's performance in the first three years (Editorial: "Christie report card: years 1-3, " Jan. 13), there is an important area that should be included — housing.
In some ways, the inadequate housing opportunities for those with moderate- to low-incomes is a quiet crisis. However, superstorm Sandy has brought this situation to the forefront in at least two ways: Many of those displaced were living in housing that was affordable and that has now been destroyed, and the lack of affordable rental or for-purchase housing — especially apartment-style housing — makes rehousing difficult. (APP)
http://www.app.com/article/20130220/NJOPINION02/302200016/Governor-should-support-affordable-housing-efforts?nclick_check=1