Morning News Digest: Thursday, February 21, 2013
By Matthew Arco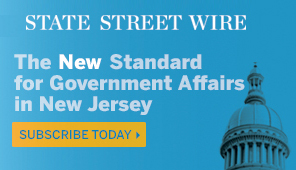 Voters disapprove of Menendez performance, poll shows
Sen. Menendez, you have some explaining to do.
New Jersey voters disapprove 41 – 36 percent of the job U.S. Sen. Robert Menendez is doing, a 15-point drop in less than a month, and say 44 – 28 percent that he is not honest and trustworthy, according to a Quinnipiac University poll released today. (PolitickerNJ)
http://www.politickernj.com/63382/voters-disapprove-menendez-performance-poll-shows
Sources: Long to endorse Christie tomorrow
Sea Bright Mayor Dina Long, a Democrat, will endorse Gov Chris Christie in Sea Bright tomorrow, sources tell PolitickerNJ.com.
According to the Christie Campaign, the governor will make a campaign announcement at Woody's Ocean Grille at 11:15 a.m. in Sea Bright. (Pizarro/PolitickerNJ)
http://www.politickernj.com/63381/source-long-endorse-christie-tomorrow
Alexander surfaces at Bowser fundraiser in EO
LD 34 State Senate candidate Mark Alexander still wants the party line, but there is no indication the Essex County Democratic Committee will give it to him.
So while the Essex County power establishment crammed Joe DiVincenzo's state of the county in Cedar Grove last night and state Sen. Nia Gill (D-34) waved to the crowd from the VIP section, Alexander turned up at a fundraiser for East Orange Mayor Bob Bowser – complete with speaking role. (Pizarro/PolitickerNJ)
http://www.politickernj.com/63378/alexander-surfaces-bowser-fundraiser-eo
Buono lands Professional Firefighters endorsement
The Professional Firefighters Association of New Jersey (PFANJ), the state association of the International Association of Fire Fighters (IAFF) endorsed State Sen. Barbara Buono for Governor. (Pizarro/PolitickerNJ)
http://www.politickernj.com/63376/buono-lands-professional-firefighters-endorsement
New Jersey Could See Nearly $78M In Pentagon Civilian Cuts
TRENTON, N.J. — The Pentagon says New Jersey could face nearly $78 million in Defense Department civilian payroll cuts if automatic government spending cuts kick in March 1.
Defense Secretary Leon Panetta told Congress on Wednesday that if a budget deal isn't reached, he may have to shorten the workweek for the "vast majority" of the Defense Department's 800,000 civilian workers. They'd lose one day of work per week, or 20 percent of their pay, for up to 22 weeks, probably starting in late April. (AP)
http://philadelphia.cbslocal.com/2013/02/20/new-jersey-could-see-nearly-78m-in-pentagon-civilian-cuts/
NJ's Biggest Utility Outlines Plans to Stormproof
New Jersey's largest utility company wants to spend nearly $4 billion over the next decade to stormproof its electric and gas system after Superstorm Sandy's high winds and devastating surge knocked out power to nearly all its customers last October.
PSE&G on Wednesday filed a proposal outlining plans to raise or bunker electrical substations in flood-prone spots, line old cast-iron gas lines with plastic and make other changes designed to prevent the kind of outages that affected most of New Jersey after Sandy struck. (Mulvihill/AP)
http://abcnews.go.com/US/wireStory/njs-biggest-utility-plans-4b-upgrade-sandy-18547233
Christie's no-bid Hurricane Sandy contract could cost N.J. millions in federal funding
When Gov. Chris Christie awarded a no-bid contract to a Florida debris removal company a day after Hurricane Sandy hit, the administration and its proponents said it was needed for a quick response to the disaster and stressed it was the best way for hard-hit towns to get the most aid from the Federal Emergency Management Agency.
But the move also has its risks for towns expecting tens of millions from the federal government, according to federal guidelines, audits and emergency management experts. (Renshaw/Star-Ledger)
http://www.nj.com/politics/index.ssf/2013/02/christies_no-bid_hurricane_san.html#incart_river
N.J. braces for 'doomsday' budget cuts as sequestration deadline looms
It was designed as a fiscal doomsday device, a last-gasp budget-slashing initiative so onerous it would jolt a bitterly divided Congress into reaching agreement on a plan to cut U.S. spending.
Now, with no accord in sight, that bomb goes off in eight days, triggering across-the-board reductions in the federal budget and sparking growing alarm in New Jersey, where local officials, advocates and government experts warn of mass layoffs, slowdowns at airports and cutbacks in a vast array of services. (Strunsky and St. Martin/Star-Ledger)
http://www.nj.com/news/index.ssf/2013/02/nj_braces_for_doomsday_budget.html#incart_river
Christie's ambitious fundraising schedule takes him to New York City and across country
In keeping with a busy fundraising schedule, Gov. Chris Christie's re-election campaign expects to raise $500,000 tomorrow night at a New York City reception.
The 100-person event at the Union League Club marks the Republican governor's first swing through the Big Apple to pick up checks ahead of the June primary. (Portnoy/Star-Ledger)
http://www.nj.com/politics/index.ssf/2013/02/christies_ambitious_fundraisin.html#incart_river
Development plans emerge as Passaic's election heats up
After years of stagnation, there are sudden signs of economic revitalization in Passaic, where redevelopment of the former Uniroyal factory and Alfred Speer Village on the city's Eastside have moved beyond mere discussion and into the planning stage.
Both projects are in the hands of the same developer, Pennrose Properties LLC of Philadelphia, a company with a long track record in urban renewal. Of the two projects, Pennrose's plan to convert the huge Uniroyal factory into a 550-unit apartment and retail complex is further along than the redevelopment of Speer Village, which is in its early stages. (Cowen/The Record)
http://www.northjersey.com/news/192201001_Development_plans_emerge_as_Passaic_s_election_heats_up.html
PSE&G wants to spend $3.9 billion to protect its network against Atlantic storms
Public Service Electric & Gas Co. wants to spend $3.9 billion over the next decade to protect its network against Atlantic storms, which government scientists predict will grow in intensity, the company announced Wednesday.
The utility's plans, subject to approval by the New Jersey Board of Public Utilities, come just months after Hurricane Sandy swept through the New Jersey coastline and wiped out power to more than 2.5 million people. (Osborne/Inquirer)
http://www.philly.com/philly/business/20130221_PSE_G_wants_to_spend__3_9_billion_to_protect_its_network_against_Atlantic_storms.html
South end residents call for Ocean City beach rebuilding
OCEAN CITY, N.J. – At the north end of town, a 309-foot dredge operated by Great Lakes Dredge & Dock Co. of Oak Brook, Ill., has been operating 24 hours a day for several days, in a project that will pump 1.8 million cubic yards of sand from the ocean floor onto the beaches.
There's no such whoosh of beach-rebuilding at the south end, leaving homeowners there puzzled and upset, especially since Sandy left their shoreline in even worse shape. (Urgo/Inquirer)
http://www.philly.com/philly/news/local/20130221_South_end_residents_call_for_Ocean_City_beach_rebuilding.html
Camden mayor tells leaders what her city needs
To thrive, Camden must address public safety, improve education, and increase public-private partnerships, Mayor Dana L. Redd told the city's movers and shakers during her State of the City address Wednesday at the Adventure Aquarium.
Redd spoke during the Cooper's Ferry Partnership's annual meeting, at which the nonprofit development agency highlighted its work in the last year. More than 300 people attended, including former Gov. James J. Florio, State Sen. Donald Norcross (D., Camden), and City Council and school board members. (Vargas/Inquirer)
http://www.philly.com/philly/news/breaking/20130220_Camden_mayor_tells_leaders_what_her_city_needs.html
N.J. voters cool on Geraldo Senate run
These days, the only absolute requirements for a shot at high office are a boatload of money and a certain sense of shamelessness.
By those measures, Geraldo Rivera should be a lock to become the next U.S. senator from New Jersey. (Fitzgerald/Inquirer)
http://www.philly.com/philly/blogs/big_tent/NJ-voters-cool-on-Geraldo-Senate-run.html
NJ gay rights organization expanding coalition
NEWARK, N.J. – New Jersey's largest gay rights organization is expanding its efforts to push for passage of same-sex marriage in the state.
Garden State Equality announced Tuesday it is assembling a coalition of civic and civil rights groups to rally for marriage legalization and expand anti-bullying initiatives. (AP)
http://www.philly.com/philly/news/politics/20130220_ap_njgayrightsorganizationexpandingcoalition.html
FEMA slashes work hours for Sandy recovery effort
Even though an estimated 40,000 New Jersey families remain displaced and thousands of businesses are closed because of superstorm Sandy, work hours have been slashed for federal employees assigned to the recovery effort in New Jersey.
The Federal Emergency Management Agency put its state staff of 1,600 on a standard 40-hour schedule this week after allowing nearly unlimited overtime after the storm struck Oct. 29. (Jordan/APP)
http://www.app.com/article/20130221/NJNEWS1002/302210018/FEMA-slashes-work-hours-Sandy-recovery-effort?nclick_check=1
From the Back Room
Why do Dems eat their young?
Yesterday's Daily Beast story on Barbara Buono's fledgling candidacy has state politicos – especially women – abuzz today over comments anonymous Democrats made about their gubernatorial standard bearer.
In one particularly low blow, one faithful party member – (Christiecrat maybe?) – talked about Christie's family jewels and likened Buono to the last female at the bar come closing time. (Isherwood/PolitickerNJ)
http://www.politickernj.com/back_room/why-do-dems-eat-their-young
The rivalry under the Jersey City Mayor's race rivalry
Since Putnam and Murphy Media Group disbanded in 2011, the two guys at the helm of that outfit for 15 years haven't faced each other across the no man's land of a campaign. Until now.
Steve Murphy of MVAR is doing media for Jersey City Mayor Jerry Healy's re-election campaign. (PolitickerNJ)
http://www.politickernj.com/back_room/rivalry-under-jersey-city-mayors-race-rivalry
Opinion
N.J. Assembly gun control bills would save lives: Editorial
The Assembly is scheduled to vote today on nearly two dozen gun control bills that stirred outrage from an overflow crowd at a hearing last week. But don't get the wrong idea. The majority of New Jerseyans are in favor of stricter gun laws, and for good solid reasons.
States with stricter gun control laws tend to have lower levels of gun violence. They save lives, and the correlation is substantial, according to a 2011 analysis by economist Richard Florida. (Star-Ledger)
http://blog.nj.com/njv_editorial_page/2013/02/nj_assembly_gun_control_bills.html
Stop the attack on open records
Lost in all the uproar over a package of gun-control bills scheduled for full Assembly consideration today is a stealth effort by legislators to reduce public access to government records. It is yet another reminder that lawmakers will forever seek ways to conduct more business in secret.
The proposal calls for tightening existing restrictions on access to personal firearms records — which include background checks, permit applications and other information — while establishing a new, vague exception to the Open Public Records Act that officials would likely abuse in the future. (APP)
http://www.app.com/article/20130221/NJOPINION01/302210016/Stop-attack-open-records