Morning News Digest: Friday, February 22, 2013
By Matthew Arco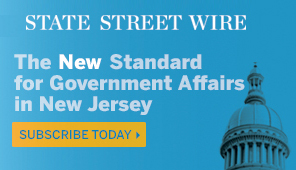 Yaede formally announces Hamilton mayoral bid
HAMILTON TOWNSHIP – Hamilton Township Mayor Kelly Yaede officially kicked off her mayoral bid Thursday night.
Yaede, a Republican who has served as mayor for less than three months, is hoping to keep control of her seat following the upcoming special election in Hamilton Township. She formally announced her campaign at the Hilton Garden Inn, where about 250 people packed a conference room to show support. (Arco/PolitickerNJ)
http://www.politickernj.com/63462/yaede-formally-announces-hamilton-mayoral-bid
OLS says revenues would need to climb 13% to reach budget goal
TRENTON – In its own analysis of Treasury revenue figures, the Office of Legislative Services said today that total major revenues for the month of January rose by more than 10 percent, largely due to increases in income tax and sales tax revenues.
While calling that a positive development, OLS pointed out that the revenue growth "continues to lag the certified year-end growth target of 8.3%." (Hassan/PolitickerNJ)
http://www.politickernj.com/63461/ols-says-revenues-would-need-climb-13-reach-budget-goal
FY13 revenues lag budgeted figure $350M
TRENTON – The state is approximately $350 million behind projected revenues for the first seven months of fiscal year 2013, the state reported today.
The state budget was $13.43 billion compared to actual revenues of $13.08 billion so far this fiscal year, as the state awaits the governor's fiscal year 2014 budget address next week. Revenues were down 2.6 percent actual compared to budgeted figures. (State Street Wire Staff)
http://www.politickernj.com/63457/fy13-revenues-lag-budgeted-figure-350m
Senate and Assembly to hold gay marriage veto override before end of term, Gusciora says
Democratic leaders in both the Senate and the Assembly today committed to holding a gay marriage veto override vote before the end of the current legislative term, Assemblyman Reed Gusciora said today.
Gusciora, an openly gay lawmaker who sponsored the bill in the Assembly, said he met with both Senate President Steve Sweeney and Assembly Majority Leader Lou Greenwald and both men were committed to putting the bill up for an override. The bill did not pass in either house with enough votes to override the governor's action, but gay rights advocates have been working the phones for a year trying to turn lawmakers in their favor. (Isherwood/PolitickerNJ)
http://www.politickernj.com/63440/senate-and-assembly-hold-gay-marriage-veto-override-end-term-gusciora-says
Buono in wake of Long endorsement for GOP rival: Christie 'wrong on the issues'
SEA BRIGHT – In response to Democrat Mayor Dina Long's support for Gov. Chris Christie, state Sen. Barbara Buono (D-18) issued a statement emphasizing her belief that Christie is the wrong choice for New Jersey.
"I respect the right of politicians to endorse whomever they choose, for whatever reason they choose," Buono said. "All I can tell you is what I stand for: a real minimum wage increase; not raising taxes on the working poor; an unemployment rate that isn't two points higher than the nation's; gun safety and marriage equality and pay equity and a woman's right to choose. And on all of those issues, Governor Christie is on the wrong side." (Pizarro/PolitickerNJ)
http://www.politickernj.com/63428/buono-wake-long-endorsement-gop-rival-christie-wrong-issues
Barnes and Diegnan running together again in LD 18
Maintaining their alliance in the 18th Legislative District, Peter J. Barnes and Pat Diegnan today formally announced their plans.
Barnes will be heading the slate as the Democratic candidate for state Senate, replacing state Sen. Barbara Buono (D-18), who's running for governor. Diegnan will once again be running for state Assembly. (Pizarro/PolitickerNJ)
http://www.politickernj.com/63423/barnes-and-diegnan-running-together-again-ld-18
Middlesex and Somerset Counties AFL-CIO Central Labor Council backs Buono for governor
The Middlesex and Somerset Counties AFL-CIO Central Labor Council today endorsed state Sen. Barbara Buono (D-18) for governor.
President Tom Tighe said Buono is the only candidate who will stand up for social and economic justice in the workplace. (Pizarro/PolitickerNJ)
http://www.politickernj.com/63419/middlesex-and-somerset-counties-afl-cio-central-labor-council-backs-buono-governor
Ramos launches campaign for Hoboken mayor
Assemblyman Ruben J. Ramos (D-33) today formally announced his candidacy for mayor of Hoboken.
"For years I've been an advocate for our city," Ramos said. "Now more than ever, I believe Hoboken needs a leader with a clear vision for the city, a leader who is willing to work with all sides for solutions. For that reason, I am officially announcing my candidacy for mayor." (Pizarro/PolitickerNJ)
http://www.politickernj.com/63415/ramos-launches-campaign-hoboken-mayor
Inverso considering comeback in 14th
Former Republican State Sen. Peter Inverso, who held the Senate seat in the 14th District for 16 years, is considering a comeback.
In an interview Thursday, Inverso said he has been approached by Senate leadership about a potential challenge to Democratic state Sen. Linda Greenstein. (Isherwood/PolitickerNJ)
www.politickernj.com/63414/inverso-considering-comeback-14th
Poll finds sharp drop in Menendez's approval in N.J.
WASHINGTON – The ethics allegations surrounding New Jersey Sen. Robert Menendez have taken a steep toll on his public image, according to a Quinnipiac University poll released Thursday.
The poll gave Menendez, a Democrat, an upside-down approval rating – 36 percent of New Jersey voters approve of his job performance, 41 percent disapprove. (Tamari/Inquirer)
http://www.philly.com/philly/news/politics/congressional/20130222_Poll_finds_sharp_drop_in_Menendez_s_approval_in_N_J_.html
Panel OKs Sandy bills
The Senate State Government Committee signed off Thursday on two bills that would establish integrity monitors and a transparency website, which residents can use to track spending on superstorm Sandy recovery efforts.
The bills head to the full Senate as New Jersey prepares to receive an initial $1.8 billion in federal aid to create a grant program to help homeowners and businesses rebuild and elevate their properties out of flood zones. (The Record)
http://www.northjersey.com/news/192432471_Panel_OKs_Sandy_bills.html
Dem mayor backs Christie
As another Democrat joined the list of people supporting Governor Christie's reelection bid, his presumptive challenger secured more union backers.
Christie traveled on Thursday to Sea Bright, where Mayor Dina Long became the second Democratic mayor to support the popular Republican governor's reelection bid. He focused his brief speech on the state's recovery from superstorm Sandy, calling Long's support symbolic of what can happen when politicians put partisanship aside for the betterment of the state. (Hayes/The Record)
http://www.northjersey.com/news/192433031_Dem_mayor_backs_Christie.html
Christie says gun control debate must include mental health discussion
As the Assembly debates a package of bills aimed at tightening the state's gun control laws, Governor Christie said the Legislature must also discuss improving mental health treatment.
"I think we're cheating ourselves if all we do is talk about the mechanics of gun control," Christie said when asked about the Assembly voting session during a campaign event in Sea Bright today. "We better start talking about mental health treatment and making mental health treatment more available and less stigmatized in our society." (Hayes/The Record)
http://www.northjersey.com/news/recordpolitics/Christie_says_gun_control_debate_must_include_mental_health_discussion.html
House where Boss penned 'Born To Run' is for sale
LONG BRANCH, N.J. – For about $350,000, some lucky home-buyer can purchase a slice of New Jersey's music history.
The Asbury Park Press reports the two-bedroom cottage in Long Branch where Bruce Springsteen wrote the classic rock anthem "Born To Run" is on the market. (AP)
http://www.philly.com/philly/entertainment/20130221_ap_housewherebosspennedborntorunisforsale.html
Nevada rushes to legalize online gambling ahead of N.J.
CARSON CITY, Nev. — Nevada Gov. Brian Sandoval signed legislation legalizing online gambling in his state today, capping a dizzying day at the Legislature as lawmakers passed the bill through the Assembly and Senate as an emergency measure.
Nevada wanted to beat New Jersey, its East Coast casino rival, to the online gambling punch. New Jersey Gov. Chris Christie previously vetoed an online wagering bill but has indicated he may sign an amended version next week. (AP)
http://www.nj.com/news/index.ssf/2013/02/nevada_rushes_to_legalize_onli.html#incart_river
Bill requiring daily recess for N.J. kids moves through Senate committee
A New Jersey legislative committee has pushed forward a bill that would require all New Jersey students in kindergarten through fifth grade to get at least 20 minutes of recess each day.
Under the bill, recess could not be denied as punishment. (AP)
http://www.nj.com/news/index.ssf/2013/02/bill_requiring_daily_recess_fo.html#incart_river
N.J. Assembly passes 22 gun-control measures
New Jersey's Democrat-led Assembly passed 22 gun-control bills on Thursday that proponents say will help curb gun violence in the wake of the elementary school massacre in Newtown, Conn.
The measures, which have yet to clear the Senate, place limits on ammunition rounds, require mental health clearances and photo IDs for gun permits, and bar anyone on the federal terrorist watch list from obtaining a gun. (AP)
http://www.app.com/viewart/20130222/NJNEWS11/302220011/N-J-Assembly-passes-22-gun-control-measures
NJ lawmaker questions price charged by Ashbritt for Sandy cleanups
Wide differences in how much money Shore towns spent on superstorm Sandy cleanup work have prompted a lawmaker to call for a state audit of the bills.
Sen. Richard J. Codey, D-Essex, said Thursday many towns got soaked by paying premium prices to a state contractor. Officials in other towns shopped and saved, "underscoring vast differences in the costs of debris removal contracts for seemingly the same type of work," Codey said. (Jordan/APP)
http://www.app.com/article/20130221/NJNEWS1002/302210125/NJ-lawmaker-questions-price-charged-by-Ashbritt-Sandy-cleanups?nclick_check=1
From the Back Room
Duffy to replace Wright as Executive Director for Assembly GOP
Veteran Assembly Republican Executive Director Rick Wright will leave his post in the coming weeks, Assembly Minority Leader Jon Bramnick (R-21) announced in caucus this afternoon.
Veteran GOP operative Mark Duffy will replace Wright. (PolitickerNJ)
http://www.politickernj.com/back_room/duffy-replace-wright-executive-director-assembly-gop
Tethering the horses in Blanco Canyon
Running for re-election this year in the City of Passaic, Mayor Alex Blanco expects the close presence of two men who fought on opposite sides of last year's 9th Congressional District Democratic Primary.
The victor in that contest, U.S. Rep. Bill Pascrell (D-9), will be in high table proximity to Assemblyman Gary Schaer (D-36), who supported the defeated Steve Rothman. (PolitickerNJ)
http://www.politickernj.com/back_room/tethering-horses-blanco-canyon
Opinion
Climate change costs are hitting home: Editorial
PSE&G wants to spend a staggering $4 billion over the next decade to harden its electric and gas systems against the impact of severe storms like Sandy and Irene, a sum that works out to about $500 per person in New Jersey.
"This is a cost of climate change, pure and simple," says Jeanne Fox, a commissioner on the Board of Public Utilities, which oversees the utilities. (Star-Ledger)
http://blog.nj.com/njv_editorial_page/2013/02/climate_change_costs_are_hitti.html#incart_river