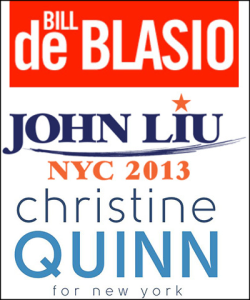 Headline of the Day: "Tony Avella speaks for the squirrels."
Which mayoral candidate has the best-designed logo? DNAinfo talked to some style experts to find out. "This is probably the saddest one of all, with both of the most popular clichés in campaign graphics," one expert complained about Comptroller John Liu's logo, for example, while Businessman John Catsimatidis' logo was labeled "generally terrible and weirdly oppressive."
One mayoral contender whose logo was viewed a bit more positively, Council Speaker Christine Quinn, is "expected to formally announce her candidacy for mayor next month," according to The New York Times report on her State of the City address. The speech itself was widely viewed as political groundwork for her expected campaign and hypothetical administration.
The campaign for Ms. Quinn's Council seat is heating up as well, with former employees of attorney Yetta Kurland claiming to have received unfair benefits and Ms. Kurland firing back that the allegations "are purposeful misrepresentations meant only to distort and disparage," "mean spirited and dishonest" and "an insult to all of us who care about these issues and don't want to see them exploited or distorted for political gain."
Governor Andrew Cuomo appreciates the support, State Sen. Adriano Espaillat, we're sure. When asked if Mr. Cuomo has made a leftward ideological turn this year, Mr. Espaillat replied, "I have no question about it. I think a little bit more and he'll be to the left of Che Guevara." He further argued Mr. Cuomo's switch was "the right thing" and said, "He's found his home again [and] he's come back home."
State Sen. Malcolm Smith is still defending his Democratic credentials amid his switch to the Independent Breakaway Conference. "Malcolm is not a Republican," Mr. Smith amusingly declared in a heated argument with Rev. Chuck Norris. "Malcolm is a Democrat, born and bred. Over time you will recognize my decision was one of the best for our community."
Another southeastern Queens pol, Councilman Ruben Wills, is having troubles as well, but of the legal variety. Investigators are reportedly "cranking up" their look into whether Mr. Wills–a former staffer and ally of ex-State Sen. Shirley Huntley, who recently pleaded guilty to embezzlement charges–did anything illegal himself. "Wills is definitely in the cross-hairs," a source told the New York Post.