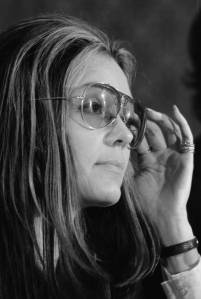 Headline of the Day: "Quinn Says Council Members' Worry Over Funding Revenge Is 'Ridiculous.'"
Feminist Gloria Steinem told The New York Times last July that her support of Council Speaker Christine Quinn's mayoral candidacy would be conditional upon allowing a vote on paid sick day legislation. And yesterday, Ms. Steinem did exactly the same thing again. Interestingly, Ms. Steinem's latest statement "was provided to The New York Times this week by the Working Families Party," the labor-backed group that's officially neutral in the mayor's race for now.
"Today the Independence Party gave New Yorkers a real choice. I will not let you down," former Bronx Borough President Adolfo Carrión declared before about 50 of the party's delegates in SoHo's Scholastic Book Store yesterday. Mr. Carrión, of course, had just received the party's official backing and will head into a likely three-way race. In an email oddly sent from a state assembly email account, Mr. Carrión may have indicated he'll formally announce his campaign on the 26th. The rally looks to be on the Grand Concourse in the Bronx.
The Brooklyn Daily previewed a list of attacks against newly-minted congressional candidate Domenic Recchia, including not only his Brooklyn residence but his past affiliation with Assemblyman Vito Lopez and his previous interest in running for other offices. "I say bring him on!" said Jerry Kassar, the borough's Conservative Party chairman. "Voters will have to choose between a strong incumbent and a challenger who doesn't know what he wants to do with his life, and has shown absolutely no evidence of competence in national issues."
Mr. Recchia does have a solid Staten Island pitch, however. Here's a line from Inside City Hall last night: "My father built homes on Staten Island. My grandfather and my father took the ferry early in the morning to build homes on Staten Island before the bridge was built. In addition to that, my mother lives on Staten Island. My three sisters and their families lived on Staten Island; they raised their families. I have aunts, uncles, cousins, friends on Staten Island. But in addition to that, … I've worked with the people on Staten Island. I've brought  millions of dollars to the cultural institutions on Staten Island."
Over in Queens, the Wall Street Journal looked at the Orthodox Jewish community and their contribution to Pesach Osina's second-place, still-too-close-to-call finish in Tuesday's surprising special election. Indeed, it seems likely that both sides will be headed to a messy ballot-counting process where election lawyers dispute the validity of absentee and affidavit ballots based on whether they originate from Jewish or African-American precincts. "It's a mixture of frustration and hope," Councilman Lew Fidler, who lost his own heated recount last year, explained. "It's going to be an agonizing trail." Read more:
And, as Poliicker is wont to do, here's the latest missive from controversial City Council candidate Thomas Lopez-Pierre:
Tonight, Mark Levine Lied To Public Housing Tenants About Taking Landlord Money

February 20, 2013

Dear Mark Levine:

Its politicians like you that turn off people about participating in the political process.
(Photo taken at a fundraiser held by Brian Benjamin, a Real Estate Developer for Mark Levine)

Tonight at the Douglass Houses Candidate Forum, I asked you in front of about 200 Black and Hispanic tenants if you took campaign contributions from landlords and you said NO!

In fact, I was so shocked by your answer that I asked you 3 times and each time you lied and said NO not just to me but to the tenants of Douglass Houses.

Not sure if you know but Douglass Houses has 3,500 registered Democrats in their 18 building!

FYI: I, Thomas Lopez-Pierre do NOT take political contributions from anyone in the real estate industry – because I choose to serve tenants and NOT landlords!

As we know, powerful White/Jewish landlords are pushing thousands of Black and Hispanic tenants out of their homes in Upper Manhattan.

As reported in the New York Times (October 15, 2008): "The advocacy group Eviction Intervention Services [of the Legal Aid Society] says as many as 300 people have left 3333 Broadway since 2005 after the building's original owner opted out of the Mitchell-Lama program and rents more than doubled – to $1,800 a month from $755 for a one-bedroom apartment, and to $2,300 from $897 for a two-bedroom." Read more here: http://www.nytimes.com/2008/10/16/nyregion/16building.html?pagewanted=all&_r=1&

Mark Levine: how can we trust you, a White/Jewish person to protect low income Black and Hispanic tenants from White/Jewish landlords if you cannot tell the truth about taking political contributions from White/Jewish landlords?

The truth is that you have taken thousands of dollars from landlords/real estate industry.

If you need help with finding the truth about you taking political contributions from landlords, you may want to read your own campaign finance report that you filed with the NYC Campaign Finance Board: http://www.nyccfb.info/searchabledb/SimpleSearchResult.aspx?cand_id=311&cand_name=Levine,%20Mark%20D&election_cycle=2013

For instance, here are just two landlords that are listed on your report:

Scott Metzner, Partner of The Janus Property Company gave you: $1,000.

The Janus Property Company is one of the largest commercial and residential landlords in Harlem (They own the Mink Building and several new construction middle income housing with annual incomes of more than $100,000 built with government tax credits – so called 80/20 deals).

Stein Gideon, Partner of Argyle Holdings LLC gave you: $1,000.

Argyle Holdings LLC is a real estate development company of luxury residential properties in Northern Manhattan.

Why did Scott Metzner and Stein Gideon each give you $1,000 and what do they want in return from you?

Mark Levine you cannot serve two masters, either you will fight to protect tenants or you will serve the private interests of landlords – you cannot serve both?

I call on you to issue a public apology for lying to the Black and Hispanic tenants of Douglass Houses within the next 24 hours or drop out of the campaign for the 7th NYC Council District.

In addition, I call on the media to do its own research into your campaign and report back to the public!

All the best,

Thomas Lopez-Pierre
Candidate, 7th Council District

PS, check out: Thomas Lopez-Pierre For City Council, An Online Political Reality Show (http://thomaslopezpierre.com/realityshow.html).

The show will center on Thomas Lopez-Pierre (of Puerto Rican, Dominican and Black descent), a hard charging, opinionated and foul mouth community political activist who is NOT afraid to fight for Black and Hispanic people against a corrupt Democratic Party political machine in Upper Manhattan controlled by White/Jewish landlords.