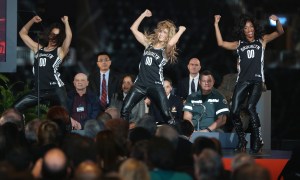 Headline of the Day: "Speech Aside, the State of the City Was Poppin'"
A new NY1/Marist poll was released last night and … surprise! Council Speaker Christine Quinn still dominates the Democratic primary with 37 percent and her three main opponents huddle between 9 and 12 percent. On the Republican side, Joe Lhota sits at 20 percent, followed by George McDonald at 8 percent with 55 percent total undecided. But even Mr. Lhota is crushed by all Democrats, including little-known Sal Albanese.
Public Advocate Bill de Blasio continued to take feisty swipes at Ms. Quinn to try and bring that number down, however. "She wants to continue, almost without exception, Bloomberg policies, and I think today is another example of a speech that does not acknowledge the reality on the ground in our neighborhoods, that didn't account for a lot of the things we need to change," Mr. de Blasio said after yesterday's State of the City speech. "And if that's what she wants to run on, then that's her choice."
In addition to re-introducing his traditional draft-reinstatement legislation, Rep. Charlie Rangel has a new bill to require women to register for the draft. "Now that women can serve in combat they should register for the Selective Service alongside their male counterparts," Mr. Rangel said in a statement. "Reinstating the draft and requiring women to register for the Selective Service would compel the American public to have a stake in the wars we fight as a nation. We must question why and how we go to war."
On the radio with Councilman David Greenfield, Assemblyman Phil Goldfeder boosted his favored candidate, Pesach Osina, in next Tuesday's special election while condemning Rev. Chuck Norris' controversial remarks in the race: "It's very disappointing, very disappointing. I mean, first and foremost, that somebody in today's day and age would actually say that out loud in a crowded room, to say, 'We need band together so we can beat that Jew.' [That] is something you just don't say. It's not something that you should be thinking and it's not something that should be in our political conversation."
Meanwhile, neighboring Brooklyn Council races are getting increasingly contentious, with the two candidates for term-limited Domenic Recchia's district taking large jabs at each other's credentials and Councilman Vinnie Gentilie's challenger John Quaglione blasting the incumbent over dirty streets and traffic tickets. "People go to the bagel store on Sunday mornings and they're fighting with the traffic agents," Mr. Quaglione explained. "And that's bad for business. Nobody wants a $115 bagel." We're not sure about that last claim.
And former City Councilman Sal Albanese explains why his mayoral opponents "have no record of public safety" and "don't … understand the basics of policing":
[youtube http://www.youtube.com/watch?v=JNZEh4ng8R4]