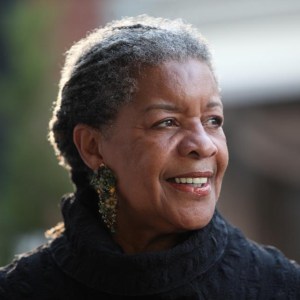 Headline of the Day: "What Happened to Room 8?"
Westchester Senator Ruth Hassell-Thompson is gearing up for a potential run for mayor of Mount Vernon. Yesterday she formed a campaign committee and her chief of staff confirmed her intentions while saying she's still running for re-election as well. "She has an exploratory campaign to run for mayor 3 years from now. It's exploratory," he told Politicker, repeating the point for emphasis. "That process has to finish itself out. With respect to, 'Is she still running for Senate?' Yes, she's running for Senate."
GOP mayoral candidate George McDonald scored a bit of a victory in court yesterday, thanks to a deal he struck with the city. Basically, Mr. McDonald will be allowed to raise money in $41,100 chunks instead of $4,950 ones, but he will only be allowed to spend each donation up to the $4,950 mark until a judge rules on the matter. As a bonus, Mr. McDonald's lawsuit resulted in a glowing New York Post editorial praising the effort.
Most of the Democratic mayoral candidates also weighed in on the controversy surrounding Assemblyman Dov Hikind's Purim outfit, with long-shot Sal Albanese coming down the hardest, followed by front-runner Christine Quinn. Bill Thompson and Bill de Blasio were more even-handed, however, with the Mr. Thompson praising Mr. Hikind for playing "a crucial role in bringing together leaders … to stand against racism" and Mr. de Blasio saying he "never found him to be prejudiced against anyone."
Regardless, keep on the lookout for Mr. Hikind's Purim costume next year. "Next year I was thinking I'd be an Indian," he told The New York Times. "But you know, I've changed my mind about that. I don't think that's a good idea. Somebody will be offended." While on the radio with Zev Brenner, Mr. Hikind said, "If I was doing it all over again? I would look at, you know, additional alternatives … It's not about being a black person or Indian, or maybe I would be a gay person."
You can listen to Mr. Hikind on the radio here or watch Shimon Gifter's video of his press conference here.
And, because it's Politicker's guilty pleasure, here's controversial Council candidate Thomas Lopez-Pierre on the issue:
Re: Thomas Lopez-Pierre: Assemblyman Dov Hikind being racist for wearing blackface?

February 25, 2013
Dear Friends:

Please find below link to the New York Times story entitled: Assemblyman [ Dov Hikind ] Defends Wearing Blackface to Party: http://www.nytimes.com/2013/02/26/nyregion/hikind-defends-wearing-blackface-to-purim-party.html

As many of you know, I count Assemblyman Dov Hikind as one of my political role models (whom I have never met in person), because he is NOT afraid to put the needs of Jewish people first and foremost at the expense of all other racial groups.

Just think how powerful the Black and Hispanic community in Upper Manhattan would be if we had a Black and/or Hispanic elected official(s) who protected his people and community like Assemblyman Dov Hikind does for the Jewish people.

I think it is sad that we have Black and Hispanic elected and community leaders in Upper Manhattan who are so scared of what the Jewish controlled media may say or think if they stand up and publicly condemn White/Jewish landlords who are pushing out Black and Hispanic tenants out of their apartments to replace them with tenants who will pay hundreds of dollars in higher rents.

As we know, White/Jewish landlords own 80% or more of the private multi-family buildings in Upper Manhattan.

NOTE: In New York City, Jewish landlords often scream 'anti-Semitism' and White Landlords often scream racism to stifle all legitimate criticism of their business practice of pushing low income Black and Hispanic families out of their homes for people who will pay hundreds of dollars in higher rents.

The story of 3333 Broadway is just one of many examples of how Jewish landlords have for years pushed low income Black and Hispanic families out of their homes in Upper Manhattan in order to make room for high income people who pay market rate rent.
As reported in the New York Times (October 15, 2008): "The advocacy group Eviction Intervention Services [of the Legal Aid Society] says as many as 300 people have left 3333 Broadway since 2005 after the building's original owner opted out of the Mitchell-Lama program and rents more than doubled – to $1,800 a month from $755 for a one-bedroom apartment, and to $2,300 from $897 for a two-bedroom." Read more here: http://www.nytimes.com/2008/10/16/nyregion/16building.html?pagewanted=all&_r=1&

With regard to Assemblyman Dov Hikind wearing Black face, I will be honest about my feelings on this matter.

And I am sorry if I offend any Jewish people with the following statement with regard to Assemblyman Dov Hikind wearing Black face.

I, Thomas Lopez-Pierre laughed my fucking ass off, that shit was so funny – end of statement!

With that said, I, Thomas Lopez-Pierre plan [ for my online political reality show ] on visiting Assemblyman Dov Hikind's Brooklyn district office in the next few weeks wearing the Jewish grab of Black hat, Black long coat, Black pants, painted with white make-up with long beard for a photo opportunity (with Assemblyman Dov Hikind if he is available or just stand in front of his office and take a few photos if he is not available).

I think it's important that we all participate in the cross-racial humor!

I find it surprising how quick elected officials and the media are to condemn non-sense like Assemblyman Dov Hikind wearing Black face but have been quiet for years as White/Jewish landlords pushed [ and continue to push ] low income Black and Hispanic families out of their homes in Upper Manhattan in order to make room for high income people who pay market rate rent.

As for Assemblyman Dov Hikind being a racist for wearing blackface; I take Assemblyman Dov Hikind at his word that he is not a racist!

Please look for my upcoming emails on policy matters (housing, education and the state of Black boys in NYC); please share any comments you may have with me at info@thomaslopezpierre.com.

All the best,
Thomas Lopez-Pierre
Candidate, 7th Council District