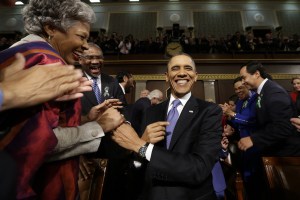 State of the Union Headline: "Marco Rubio's Unplanned Water Break Steals the Show."
Rep. Eliot Engel, known as an "Aisle Hog" for his yearly tradition of camping out a front-and-center aisle seat at the State of the Union, waited hours in advance for the prime location. President Barack Obama, however, snubbed him as he entered and shook hands with other New York representatives. But never fear, Mr. Obama got to Mr. Engel on his way out.
What's with Rep. Michael Grimm and cupcakes? He was briefly challenged by a Democrat involved in a "high-profile cupcake war" last election cycle and now it seems there is some controversy as to whether Staten Island's latest elections commissioner is a cupcake-baker and wife of a Grimm staffer. Politicker reached out to Mr. Grimm's office to find out if the congressman himself enjoys the baked delicacy, but we have yet to hear a response.
Today's leaks from the Joint Commission on Public Ethics were not kind to Assemblyman Vito Lopez, who has largely managed to avoid additional sexual harassment allegations since the initial dust-up last year. The latest claims–made indirectly through sources familiar with JCOPE testimony–suggest Mr. Lopez has some more bad headlines in front of him as he considers a City Council campaign.
The New York Times took an look at the leading mayoral candidates and their tendency to frustrate bike advocates. Interestingly, former Comptroller Bill Thompson, who pledged to rip out a Grand Street bike lane in his 2009 campaign, now seems to be the most pro-bike lane of the bunch. Meanwhile, Deputy Mayor Howard Wolfson, an avid rider himself, declared the whole controversy moot, saying, "The great bike war is over, and the opponents lost."
And consultant Bruce Gyory has a demographic theory for why Joe Lhota is the favored Republican candidate: "Simple. With the single exception of 1981, when Ed Koch beat a little-known assemblyman named John Esposito in the GOP mayoral primary, no Italian-American has lost a Republican primary citywide or statewide in almost a half century (e.g., Marchi in 1969, D'Amato in 1980, Giuliani in 1989 and DioGuardi in 2010)."
Remember that Nassau County Executive who ran a quixotic campaign against Governor Eliot Spitzer before losing in a surprise upset for reelection himself? He's back:
[youtube http://www.youtube.com/watch?v=Qvh60jfG8QE]