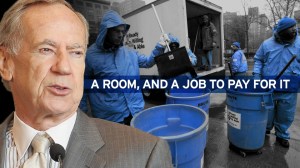 Headline of the Day: "For a Global Life, Bloomberg Builds His Own British Empire."
The New York Post reports that Assemblyman Vito Lopez is "ogling" a City Council seat and telling insiders he will indeed make the campaign he's long been mulling. For what it's worth, Mr. Lopez still sounded uncommitted on Wednesday night when Politicker asked him about the topic.
The publication is also reporting that two politicians who let their controversies bring them down–former Governor Eliot Spitzer and former Congressman Anthony Weiner—spotted each other at an Upper East Side restaurant, got up and hugged. "The reformed sexter and sock-wearing john then went to their neutral corners."
Gatemouth reflected on whether or not Lena Dunham's vote would have been counted. "When the Board of Elections counts affidavit ballots, it must first check each ballot in its data base, to see if it is eligible to be counted," he explained. "Normally, when one does that, one also logs each voter's participation into the database at the same time. To go back and do it later would be a preposterous waste of time and taxpayer money. But this year, it is credible."
Speaking of craziness at the BOE, a paperwork error has allowed the city's four Republican councilmen to replace their party's five Board of Elections commissioners. Councilman Jimmy Oddo, who heads the GOP delegation, said the ineptitude displayed on Election Day–where long lines and unopened polling sites had some voters giving up–was the latest sign the patronage-infused institution could use a shake-up.
Republican mayoral candidate John Catsimatidis has found a new issue to focus on: standing up for the Chinese Lunar New Year and the Asian community writ-large. "The MTA has no respect for the Asian people. It's terrible," Mr. Catsimatidis said of the 7-train having limited service during the holiday, adding, "The Asians are very important element to our city and our small businesses are a very important element to our city."
While one of Mr. Catsimatidis' GOP rivals, George McDonald, received the full Gawker treatment yesterday for his work on behalf of the homeless. "The next mayor of New York City will not be George McDonald, though George McDonald is running for mayor," the story begins. "That's OK."
And here's Attorney General Eric Schneiderman talking guns with Rev. Al Sharpton: