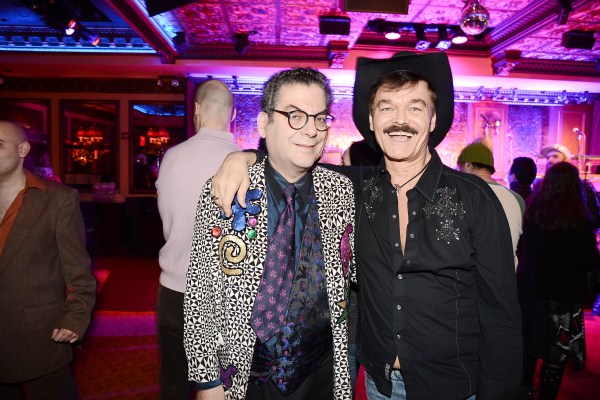 It's a well-known adage that if you are old enough to remember Studio 54, you've probably aged out of any knockoffs of the infamous Midtown debauch-party. But all rules were suspended on Sunday night, when Michael Musto—The Village Voice's answer to "What would Oscar Wilde have said if asked to comment on the '80s for VH1?"—held his '70s Disco Extravaganza at 54 Below.
The venue 54 Below is located, as the name might lead one to expect, directly below the former Studio 54. Walking into the gilded underground hall, the Transom found it hard to discern what sort of patrons were attending the evening. Not drag queens, exactly—there was one man wearing a giant fur stole and some kind of 12-gallon hat—though it was certainly a flamboyant crowd. And why not? Accompanying the host of the evening was the '70s cover band Elektrik Company, along with two individuals named Snooky & Tish, billed as Mr. Musto's "glittering sidekicks." (No, it wasn't that Snooki.) And this was all before the evening's special guests!
Taking the stage, the usually reserved Mr. Musto jumped up wearing a suit of glitter, roaring, "Everyone is on Zoloft now. Boring!" Which may have been an out-of-context punchline, but we missed the joke. "I'm going to sing 'I Will Survive' by Gloria Gaynor," Mr. Musto announced. So far, so good.
"But what if her name was Gloria Gain-more, and she had a weight problem? It would go like this …"
As surprising as it was to hear the caustic columnist do his best Weird Al puns regarding food—"I spent oh so many nights feeling sorry for myself / I used to cry / When I ran out of pizza pie!"—the bigger surprise was Mr. Musto's sonorous voice, which, if not Broadway-perfect, was definitely a notch above live-band karaoke.
But wait, we weren't even halfway through! A duet of "Don't Go Breaking My Heart" brought Tony nominee Orfeh (Legally Blonde) to the stage, and that was followed by the grande finale of "Y.M.C.A.," sung by … who else? The cowboy from the Village People.
Sure, he has a name: Randy Jones. He's aged well, too. Looks like Burt Reynolds. Dancing through the audience, we were able to catch up with Mr. Jones for a picture. After sussing out our publication, he started pitching us on a Village People musical, apparently in the works.
"It will be all songs from the Village People, but with a plot," he assured us, "like ABBA and Mamma Mia!" As we racked our brains trying to think of a plausible narrative that would involve lyrics like "Funky with his body / he's a king, call him Mister Eagle / dig his chains," Mr. Musto beckoned us to his upstairs dressing room.
"Oh, I totally think the Village People musical is going to happen," he said, waving away our question as he flipped through an inordinate number of backup costumes. "They've been working on it forever."
As for himself: "I used to have a '60s Motown band. That was in the '80s." So it's three decades later, and he's only moved up to '70s disco?
"Ha, right. I would love to have an '80s cover band, you know, like New Wave, British stuff."
But unfortunately for the packed room—which included VIPs like Paper Magazine's Mickey Boardman, Patrick McMullan and legendary New York DJ Anita Sarko, among others—Mr. Musto is keeping the affair a one-off, for now.
"I've been asked to host a monthly party, but it just seems like so much work," he said. "Not just the rehearsing, but all the promoting I'd have to do."
We found it hard to believe that Michael Musto, the mahatma of Manhattan parties, would have to put much effort into getting people through the door to watch him perform. Especially if it involved parodies of diva classics, not to mention the promise of Broadway stars and kitschy boy-band members.
It's like that famous movie line: "If you bill it, gays will come!"