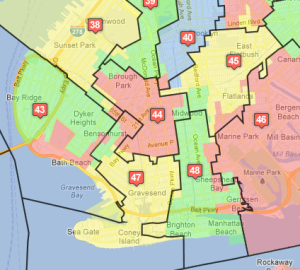 The Districting Commission tasked with redrawing City Council lines unveiled yesterday the latest, and likely last, version of those lines. After a process fraught with alleged backroom deals and heated public hearings, the lines are a City Council vote away from being final for another decade.
Some alterations were made to satisfy the demands of civic groups and minority advocacy organizations, but, at first glance, many were not.
In Bayside, Queens, Asian-American civic groups are likely still upset that a section below the neighborhood home to a growing Asian population was not included in the district represented by Councilman Dan Halloran. In Brooklyn, former district leader Lincoln Restler's chances took a hit when a change to unite Hasidic communities in south Williamsburg and north Bedford-Stuyvesant was included in the final map, giving incumbent Councilman Steve Levin a stronger base of support. And Manhattan Councilwoman Melissa Mark-Viverito, a vocal critic of the redistricting process, had Randall's Island and a section of East Harlem restored to her district as she had demanded.
View the maps for yourself below:
Manhattan:
NYC Council Maps February 6 Plan for Manhattan by
Brooklyn:
NYC Council Maps February 6 Plan for Brooklyn by
Bronx:
NYC Council Maps February 6 Plan for the Bronx by
Queens:
NYC Council Maps February 6 Plan for Queens by
Staten Island: