It's all fun and games until the Globetrotters have to build a human pyramid to escape a North Korean prison. Today, VICE media sent "correspondent Ryan Duffy, NBA Hall of Famer Dennis Rodman, and select members of the Harlem Globetrotters" along with a film crew to Pyongyang, North Korea for the first ever attempt at "Basketball Diplomats." This is all part of the new TV show VICE on HBO, which will be an extension of the VBS.tv series on Vice.com.
According to a U.S. state department official, VICE has not contacted them about their trip, nor does it vet private travel to the country, which two weeks ago scared the world by performing underground nuclear testing.
What could go wrong?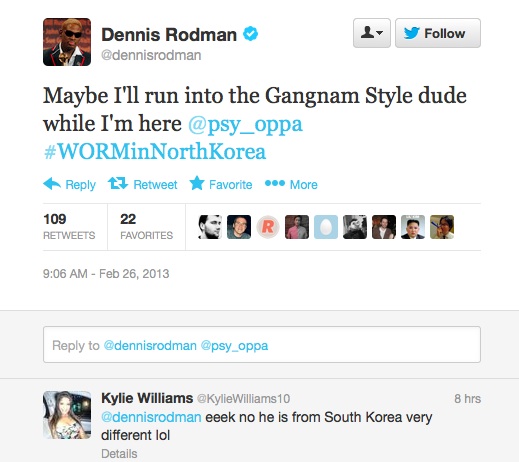 An obvious diplomatic choice.
According to VICE founder and host Shane Smith in a press release sent out today:
"Is sending the Harlem Globetrotters and Dennis Rodman to the DPRK strange? In a word, yes. But finding common ground on the basketball court is a beautiful thing. These channels of cultural communication might appear untraditional, and perhaps they are, but we think it's important just to keep the lines open. And if Washington isn't going to send their Generals then we'll send our Globetrotters – Cue music – 'Sweet Georgia Brown.' "
The week-long trip will include a basketball camp for North Korean children and "engaging in community-based games to encourage openness and better relations with the outside world." And hilariously, the release added, "there may be a top-level scrimmage to be attended by Kim Jong Un, the leader of North Korea."
Rodman told reporters today, ""It's my first time, I think it's most of these guys' first time here, so hopefully everything's going to be OK , and hoping the kids have a good time for the game." And that's the last we'll hear from him for awhile, though we keep checking his Twitter feed for news about his decision to move permanently to the great and glorious sovereign country of strong leadership and bountiful food.
Though dangerous and extremely stupid (that's VICE's official motto, right?) this news has created quite a lot of buzz for a show we didn't even know was in the works. As The New York Time's staff Michael Roston asked on Twitter, "Hey @DennisRodman can you defend America in North Korea like you defended @Shaq in the 1996 NBA playoffs?" We actually think this is going to be more of a Rocky IV situation, with this guy playing North Korea's answer to Dolph Lundgren.
VICE debuts Friday, April 5th (11:00-11:30 p.m. ET/PT) on HBO, which will be the last time anyone sees the Harlem Globetrotters, so be sure to tune in!