From countless movies, books and television documentaries on the History Channel, we know about the Nazis who were rounded up and tried as war criminals after World War II, but what about the children of the Third Reich who survived? What happened to them in the eyes of the allies, the Germans and the world? This issue is illuminated in Lore, a brave, gripping, relentlessly absorbing film from Australia, shot in Germany and played entirely in German with English subtitles. It's Australia's deserving contender for this year's Academy Award, for a very good reason. As a chilling footnote to the most brutal chapter in human history, and a Holocaust film unlike any other, it shows the legacy of Nazism through the eyes of innocent children in the aftermath of horror. Without the usual scenes of torture and carnage, it examines the postwar landscape of a defeated ideology with wrenching force. In Lore, the battles are fought in the hearts and minds of children so young that their only crime was to believe the lies their parents told them. Prepare to be moved to tears. 
In the spring of 1945, when the Allied forces conquer Germany, the last traces of resistance fade and Hitler and his closest advisers lock themselves in an underground bunker to commit suicide, a 14-year-old girl named Lore (hauntingly played by newcomer Saskia Rosendahl) is almost relieved. It means that her father, a high-ranking S.S. officer, is coming home to Bavaria for good. But the celebration is short-lived, as her parents hastily dress their five children and prepare to flee—packing up the silver, killing the family dog and erasing any evidence of their involvement with the Nazi regime by burning photographs, documents, medical records and official books like "Law for the Prevention of Hereditarily Diseased Offspring." For a while, they hide out on an isolated farm, but the father is sent to a prison camp and the traumatized mother, raped and half-mad with despair, surrenders, leaving Lore in charge of her four younger siblings, including an infant still in diapers. The tables have turned, and loyal followers of Hitler now find themselves victims of their own toxic arrogance. With some of her mother's jewelry and enough money to purchase train tickets to their grandmother's house, 560 miles north of Hamburg, Lore is left to fend for herself and save the children from the advancing Allied armies.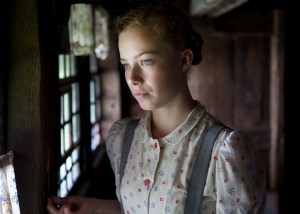 Most of the film is a grueling road trip that doesn't spare the wrenching details. Hiking across a war-ravaged country, the children encounter dead bodies, live on raw eggs and beg for bread. On the walls in town squares, Lore sees her first photos of concentration camp atrocities, and is informed by locals that the pictures are pure American propaganda and the emaciated people in striped camp uniforms are really paid actors. In a deserted farmhouse, she meets an old woman who is willing to trade drinking water for her mother's wedding ring, and in a barn, she steals a wristwatch from a suicide victim. They are stopped on the road by hostile American soldiers and saved from arrest by a Jewish boy from Buchenwald, who protects them by pretending he's their older brother, because "Americans love Jews." Still brainwashed by the Führer-worshiping, anti-Semitic hatred of her falsely superior upbringing, Lore is shocked by the younger children's acceptance of his kindness and confused by her own growing sexual tension in his presence. To survive, she is forced to trust the kind of person she was taught to fear and despise. But even though her view is maturing, she cannot avoid the suspicious fellow Germans she encounters, like the woman reduced to poverty and starvation who still keeps a framed photograph of Adolf Hitler on the wall, fighting back tears: "We broke his heart, he loved us so much." The way in which Lore reaches her epiphany, accepts the truth she was sheltered from for so many years and denounces her misplaced patriotism is emotionally overwhelming.
Beautifully photographed and acted by an exquisite cast of children who never make a single move that is calculated or less than believable, Lore is the second film by the gifted director and co-writer Cate Shortland, after her acclaimed 2004 debut feature Somersault, which also dealt with a teenager's sexual awakening in the face of adversity and challenge. But Lore delves even deeper, not only into the forced sacrifice of one girl's childhood, but into the complicity with which so many Germans of all ages drank the Kool-Aid of organized insanity that led to criminal domination and international ruin. It's a remarkable accomplishment.
rreed@observer.com
LORE
Running Time 109 minutes
Written by Cate Shortland, Robin Mukherjee and Rachel Seiffert (novel)
Directed by Cate Shortland
Starring Saskia Rosendahl, Kai-Peter Malina and Nele Trebs
4/4