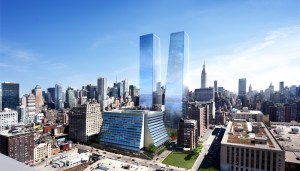 Manhattan West too corporate? Far West Side too bland? Clinton too anodyne? Hell's Kitchen too imprecise?
"You've heard of NoMad, NoLita, and NoHo," writes Bisnow. "Well, get used to 'NoChe.' " (We'd prefer not to!) "It stands for North Chelsea, pronounced a touch exotically"—because nothing screams exótico like millions of square feet of shimmering class A office space!—"like the Spanish word for 'night.' It's how insiders are referring to the dramatic new area being forged by Brookfield and Related on the Far West Side."
This is the first we're hearing of NoChe, although it isn't the first appearance of the name, which dates back to at least 2005, when Lockhart Steele was still slumming it as a writer at Curbed NY. The New York Times also included the abbreviation in its pages as recently as October, when it quoted broker Clifford Finn, then CitiHabitats' head of new development marketing, as saying, "A lot of people like to think of it as North Chelsea, or NoChe." (The name appears most popular with unnamed "insiders" and "a lot of people.")
The Observer spoke with Hell's Kitchen resident Andrew Berman of the Greenwich Village Society for Historical Preservation, to get his take on the latest attempt to rename what may be Manhattan's most oft-renamed 'hood.
"I've never heard of that one before," said Mr. Berman, referring to the NoChe moniker. "I've heard of some other funny ones—Hellsea, Chelsea Heights—but those were always sort of tongue-in-cheek, people weren't actually trying to rebrand or rename. At one point somebody was trying to push SoPA—South of Port Authority." (Though Sandy may have, mercifully, put the kibosh on that particular neologism.)
Then again, "stranger things have happened," Mr. Berman conceded. But is it likely? "I think Hell's Kitchen is a great name, and I think people feel a lot of pride attached to it. So… I don't think so."