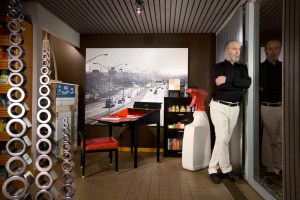 Canadian novelist Douglas Coupland, who wrote the classic Generation X: Tales for an Accelerated Culture, also makes pretty cool furniture! Who knew? He's just completed his first full collection for the design company SwitzerCultCreative.
"The 'Douglas Coupland for SwitzerCultCreative' collection is a reflection of everything I use daily," Mr. Coupland said in a press release. "These are pieces that will unleash creativity, dopamine, high style and timelessness into their user's world."
Uh, maybe! He does make a fine looking desk. You can read more about it here.