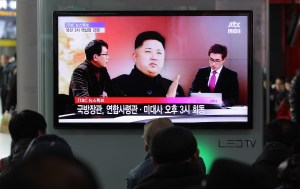 While Korean media in New York City was abuzz with the news that North Korea had conducted its third nuclear test, the radioactive blast left members of the city's Korean community decidedly nonplussed.
Although New York's biggest dailies were still fixated on the Pope's recently-announced abdication, the Korea Times and Korean Daily News, two largest Korean-language newspapers in New York, splashed news of the test on their front pages. Myungsuk Lee, publisher of the Korean American Times, told Politicker the local Korean community was worried, but have also grown somewhat desensitized to North Korea's nuclear threats. For Korean-Americans, who virtually all emigrated from South Korea, northern leader Kim Jong-un's nuclear test–the first under his new reign–did not come as a surprise, he said, but rather as a somewhat routine development.
"We feel agitated, but it's not that serious," Mr. Lee explained. "North Korea is isolated and this is just a way for them to show their military strength. This made headlines in every daily newspaper in the Korean language, radio, television, which means that's the biggest news of today. But it tends to be like this, it's been like this several time before. Koreans take it for granted."
In Manhattan's Koreatown, Mr. Lee's sentiment was echoed by several people we spoke with. No one questioned about the nuclear test seemed particularly panicked.
"As a South Korean person, actually, I don't give a damn," said Doo Young Cho, an elderly man standing near 5th Avenue. "I don't think it will lead to anything."
Moonsoo Shim, a cashier in a Korean bookstore on 32nd Street, was not quite as defiant as Mr. Cho, but he said he was not scared.
"It's weird and I am a bit worried, but I am not scared of North Korea," he said.
Two young men smoking outside a restaurant were at first reluctant to talk about the nuclear test, but one of them, wearing designer jeans and sleek black glasses, smiled through puffs of smoke.
"I don't really care about that," he said of the North Korean test. "It takes a very long time for them to do what they want to do."
However, not everyone we spoke with was as unconcerned about the test. Ron Kim, New York's first and only Korean elected official, insisted Koreans here were "sick and tired" of the repeated threats from the North and said uncertainty Kim Jong-un contributed to fears in the community.
"I think each test is taken very seriously," Mr. Kim, a Queens Assemblyman, said. "I have cousins in South Korea. You can see that in social media, the younger generation is tweeting about it. It is taken very seriously every time and there's new leadership in North Korea. We don't know the kind of rationale this person has which further fuels paranoia."