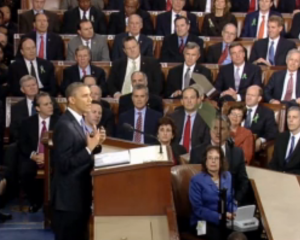 Step aside Governor Andrew Cuomo, President Barack Obama has one-upped your minimum wage proposal.
In his State of the Union speech tonight, Mr. Obama unveiled a number of initiatives, including a new national minimum wage rate of $9.00 an hour, raised from the previous minimum of $7.25.
"We know our economy is stronger when we reward an honest day's work with honest wages," Mr. Obama says in his prepared remarks. "But today, a full-time worker making the minimum wage earns $14,500 a year. Even with the tax relief we've put in place, a family with two kids that earns the minimum wage still lives below the poverty line. That's wrong. That's why, since the last time this Congress raised the minimum wage, nineteen states have chosen to bump theirs even higher."
Mr. Obama further argued that future minimum wage increases should be tied to inflation, an idea he said even his former electoral opponent, Mitt Romney, agrees with him on.
"Tonight, let's declare that in the wealthiest nation on Earth, no one who works full-time should have to live in poverty, and raise the federal minimum wage to $9.00 an hour," he continued. "For businesses across the country, it would mean customers with more money in their pockets. In fact, working folks shouldn't have to wait year after year for the minimum wage to go up while CEO pay has never been higher. So here's an idea that Governor Romney and I actually agreed on last year: let's tie the minimum wage to the cost of living, so that it finally becomes a wage you can live on."
In New York, Gov. Cuomo's recently-unveiled budget contains a minimum wage increase to $8.75 with no index to inflation, although with multiple legislative proposals on the table, it's difficult to ascertain where the final compromise will lie.
Mr. Obama, however, could have a harder slog than Mr. Cuomo in implementing his idea, as Republicans in the New York State Legislature have largely conceded to an increase in some form. The GOP-controlled House of Representatives may not be as friendly to an Obama-backed minimum wage hike.