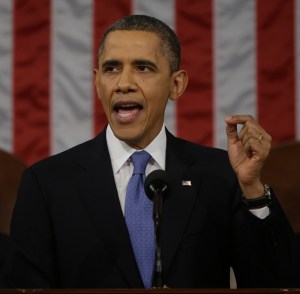 In his State of the Union address last night, President Barack Obama announced a new initiative to protect American citizens and businesses from hack attacks. Cybersecurity, of course, has recently made the news as complex attacks–allegedly linked to the Chinese military–have been waged against both government institutions and the media. President Obama's executive order, which he announced in his speech after the White House sent reporters a preview, aims to curb this activity as well as more pedestrian hacking threats.
"America must also face the rapidly growing threat from cyber-attacks," Mr. Obama declared. "We know hackers steal people's identities and infiltrate private e-mail. We know foreign countries and companies swipe our corporate secrets. Now our enemies are also seeking the ability to sabotage our power grid, our financial institutions, and our air traffic control systems. We cannot look back years from now and wonder why we did nothing in the face of real threats to our security and our economy.
To that end, President Obama signed an executive order dedicated to "increasing information sharing, and developing standards to protect our national security, our jobs, and our privacy."
Specifically, according to a White House briefing that you can view below, the order "requires Federal agencies to produce unclassified reports of threats to U.S. companies and requires the reports to be shared in a timely manner" and "directs the National Institute of Standards and Technology (NIST) to lead the development of a framework of cybersecurity practices to reduce cyber risks to critical infrastructure." The executive order also calls on regulatory agencies to review existing cybersecurity regulations to "determine if existing requirements are sufficient, and whether any existing regulations can be eliminated as no longer effective." All of the government agencies and participating "critical infrastructure" companies affected by the order are also required to "incorporate privacy and civil liberties safeguards"in any resulting changes they make.
Along with the plans mandated by his executive order, President Obama also urged Congress to act "by passing legislation to give our government a greater capacity to secure our networks and deter attacks." In spite of the president's push to police the digital realm, sadly, it doesn't seem like the White House plans to do anything about pop-up ads.