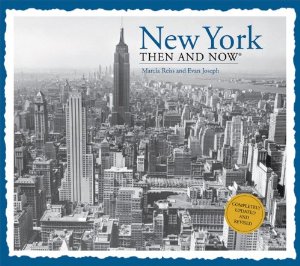 The next time you're tasked with unloading a $22.8 million Upper East Side townhouse, here's an idea for you: host a book signing! Such was the strategy devised by Douglas Elliman Real Estate executive vice president Corinne Pulitzer, who's in the process of selling the stately, six-story, Central Park-side dream home at 18 East 73rd Street.
At an open house last Thursday, Ms. Pulitzer not only offered brokers a glimpse inside the magnificent 146-year-old abode, but she also gave them the chance to meet famed architectural and interior photographer Evan Joseph, and to check out his snazzy new book, co-written by Marcia Reiss, New York: Then and Now, which contrasts old, historic photos of the city with modern ones (taken by Mr. Joseph) in the same locations.
Shameless fans of anything snazzy, the Transom headed uptown and soon found ourselves exploring a majestic parlor-floor living room, laden with lavish French decorative art pieces. Also there, the Transom found Mr. Joseph in an elegant wood-paneled dining room.
"It was a lovely idea," said Mr. Joseph, who also photographed the interior of the 73rd Street home, adding that he was excited to be making his debut in the world of open house-turned-book signing. "This home [is] on the national register of historic places, and is a part of old New York… It seems to have been a good match. So I [didn't] say no."
Ms. Pulitzer, who says she only adds additional attractions to her open houses "when it's appropriate," was pleased with Thursday's fusion of art and real estate. And so were the owners, George and Antonia Pavia.
Speaking of the owners, we made our way down a narrow, twisting staircase before the book signing started and stumbled upon the Pavias in a luxurious downstairs study. The Pavias have lived here 37 years, and consider themselves experts on the townhouse's rich New York history, which is why they say Mr. Joseph was the perfect candidate to photograph their home.
"He would ask about certain pieces and I could tell him about them, and about the colors and light and all of that," said Mrs. Pavia, after showing us a stack of century-old census reports and news clippings in which the townhouse was mentioned. "He really knows his stuff. He was obviously a kindred spirit, without a doubt."
Thoroughly schooled on the house's history, we headed back upstairs, where some attendees had formed a line to collect signed copies of Mr. Joseph's new tome while others mingled, sipping wine, presumably making their way through mental lists of potential buyers.
A few ticks after sundown, we left the 1866 townhouse and re-entered the present day, where we were saddened to admit that at least one thing never changes: No matter the year, a multi-million-dollar mansion in New York is rarely in a writer's budget.