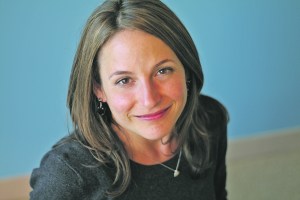 In Karen Russell's debut novel Swamplandia! (2011), loss propels the story forward. The book, which was a finalist for the Pulitzer Prize, follows a family that runs an alligator-wrestling theme park on an island in the Florida Everglades. Mostly narrated by Ava, a 13-year-old girl who has spent her whole life in the park, Swamplandia! is about the interplay of fantasy—Ava's older sister quite believably elopes with a ghost—and being grounded in cold reality: the death of the family matriarch, the park's star performer, holds the story together while unraveling the family at its center.
Picking up on the more hallucinatory thread of her novel and running with it in her second collection of short stories, Vampires in the Lemon Grove (Knopf, 256 pp., $24.95), Ms. Russell proves herself to be a master of magical realism. Here she introduces us to a vampire couple who suck on lemons to soothe their aching fangs, girls transformed into silkworms, a flock of seagulls that steal objects from the future, dead presidents reincarnated as horses, Antarctic tailgating and a tattoo that comes to life.
Ms. Russell mines the theme of loss even deeper in these new stories. A vampire's loss of his ability to fly threatens his relationship with his mate. In the story about the gulls, the teenage protagonist loses his chance to go to a pre-college academic program when his mother loses her job at a home for the mentally impaired after she is blamed for the loss of a pin that kept a window shut. A soldier in "The New Veterans" mourns a buddy lost in an IED explosion. In "The Graveless Doll of Eric Mutis," a group of teenage boys is forced to confront the mysterious disappearance of a classmate they bullied, a boy who'd lost his prized bunny rabbit, when he seemingly reappears in the form of a scarecrow.
Ms. Russell tends to lean heavily on metaphor. It is at once her greatest asset and her biggest liability. When her language gets too florid, as it did at times in Swamplandia! and does in this collection as well, the worlds she constructs can be overly lush, too humid with thick embroidery to ring true. But there is an exuberance to her descriptive abilities, a kind of ludic writerly joy in the process that translates to a readerly thrill in the results. On one of the homesteads on the rain-starved Nebraska frontier that serves as the setting for "Proving Up," there are "thirty evil turkeys that have heads like scratched mosquito bites" and a "tarantula [that] had closed around the bedpost like a small, gloved hand." To an ancient vampire in the title story, a teenage girl "smells like hard water and glycerin."
Ms. Russell is at her best alternating between the wildly fantastical and the utterly banal, especially when she finds a way to fuse the two together. The anthropomorphic scarecrow from "Eric Mutis," for instance, eventually appears in a New Jersey city of "neon alleys, construction pits, dogs in purses, homeless women with powerful smells and opinions …" It helps that these stories are intertwined like clues to one another's riddles. The protagonist of "Eric Mutis" refers to the silence that came after bullying a classmate being "as essential to our friendship as … blood is to a vampire." But in "Vampires," we learn that blood actually isn't essential to these creatures. In "The New Veterans," a soldier bleeds to death after an explosion. Back in "Eric Mutis," the scarecrow bleeds straw from a hole, and the story's protagonist catches, on TV, "a news shot of a foreign soldier watching blood spill from his head with an expression of extraordinary tranquility." A similar expression to the soldier's is worn by a child whom the protagonist and his friends assault at school. The casual violence of the playground finds its echo in the outright devastation of the battleground. These moments of realism that poke through the metaphor, Ms. Russell suggests, are also dangerous myths.
Two stories that come midway through the book—"The Barn at the End of Our Term," about a seemingly random group of deceased U.S. presidents reincarnated as horses, and "Dougbert Shackleton's Rules for Antarctic Tailgating," which is exactly that, the sporting event in question being an absurdly imbalanced contest between whales and tiny crustaceans called krill—suffer by juxtaposition with Ms. Russell's finer performances. They come off as gimmicky and slight, the filler necessary to round out a collection. They reveal the nature of the high-wire act that is Ms. Russell's brand of magical realism: when the conceit is too precious, the reader's suspension of disbelief starts to crumble.
Not that these minor efforts don't have their pleasures. Despite its silly premise—an elaborate riff on "buying the farm"—"The Barn" does manage to keenly convey the dead presidents' metaphysical quandary: is this barn heaven or something more sinister? (Or is it just mundane?) The story's protagonist is Rutherford B. Hayes, 19th president of the United States, whose election in 1876 was its own mixture of fantasy and fact—the popular vote favored his adversary, Gov. Samuel J. Tilden of New York, and the electoral votes were disputed because of fraud committed by both parties. In Ms. Russell's story, he desperately needs to believe that a sheep in an adjacent pasture is the reincarnation of his wife. The afterlife is profoundly lonely, and the sheep "perks up when Rutherford trots over." Then again, Ms. Russell writes, "It might be his imagination."
sdouglas@observer.com