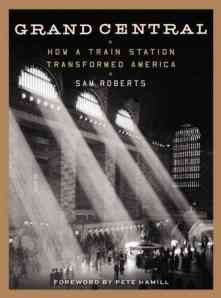 Grand Central: How a Station Transformed America
Sam Roberts
(Grand Central Publishing, 320 pp., $30)
Walking through Grand Central in 2013, one is struck by how inevitable the station feels—from the gently sloping walkways that lead into the main concourse to its location in the transportation-tangled, high-rise-shadowed heart of Manhattan. But as Sam Roberts reveals in Grand Central: How a Station Transformed America, nothing about Grand Central's construction, design, preservation or even its continuing existence has been inevitable.
The first Grand Central station—a mansard-roofed monstrosity—was mocked for being neither grand nor central. And it may well have stayed that way had it not been for a horrific crash in 1902, when one train rear-ended another in the smoke-clogged Park Avenue tunnel, killing 15 instantly. The subsequent electrification of the rails, and the graceful Gilded Age station that was built to accommodate them, were thus the result of an accident.
Mr. Roberts's larger thesis, or as much of a thesis as we get in his celebratory paean, is that the station shaped America's urban development (the construction of Grand Central pioneered the creation and sale of air rights), public/private partnerships, the historic preservation movement and even our experience of time and space. The thesis, compelling if lackadaisically argued, separates it from being just another photo-laden commemorative volume. It also justifies our enthusiasm for the station's 100th anniversary as more than simple sentiment or nostalgia.
The book's only weakness is its structure. Organized by themes, hinged together with anecdotes, it's easy to scan but hard to read in one sitting. If only those anecdotes were as well integrated into the text as Grand Central is into New York. —Kim Velsey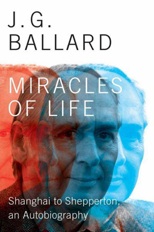 Miracles of Life: Shanghai to Shepperton, An Autobiography
J.G. Ballard
(Liveright, 272 pp., $25.95)
If you had a reputation as a bleakly dystopian science fiction writer with a minor in Pop Art, as James Graham Ballard did, you'd probably want to hide any signs that you might be well-adjusted. Certainly the circumstances surrounding Ballard's childhood were traumatic enough: born in Shanghai to British parents, he and his family spent two and a half years in a Japanese internment camp during World War II. By the time he passed away, in 2009, the writer had achieved the highest honor bestowed in the arts: an adjective-ized surname that defines derivative work as "resembling or suggestive of the conditions described in J. G. Ballard's novels and stories, especially dystopian modernity, bleak man-made landscapes and the psychological effects of technological, social or environmental developments."
But reading Miracles of Life, the autobiography that was Ballard's final opus, which is being published this month for the first time in America, one gets the feeling that Ballard viewed the world in a much more pleasant light than his fiction let on. Sure, he witnessed those metaphoric empty swimming pools, the abandoned houses that would appear in his post-apocalyptic story The Drowned World, the twisted chunks of burning metal that flew out of the sky during his time in the Royal Air Force. But from the start, Ballard sells us on a different version of his childhood, describing the "relaxed and easygoing world" of Lunghua Civilian Assembly Center, where his family was interned.
Despite the lack of food, poor health and occasional bouts of Japanese brutality toward the Chinese (never the Brits, never the Americans), the author paints an almost idyllic picture of an unexplored landscape where a young boy had free rein to do whatever he pleased. It was the adults who slumped their backs and feared the worst when confronted with what appeared, through Ballard's childhood eyes, to be nothing short of a brave new world. —Drew Grant