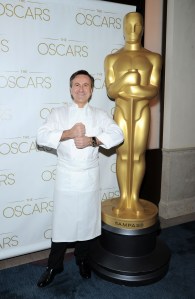 If you happened to be walking along East 65th Street on Sunday night, you might have noticed a gold, person-sized replica of the Oscar statuette standing outside Daniel, restaurateur Daniel Boulud's fancy French outpost. For the past 24 years, the Academy of Motion Picture Arts and Sciences has hosted a New York Oscars viewing party, and this year, for the first time, it was held at one of Mr. Boulud's establishments.
Before the screening of the awards ceremony, a cocktail hour was held in the restaurant's back dining area, giving writers, celebrities and Academy members the chance to mingle as drinks and canapés circulated through the room.
Getting an interview with Mr. Boulud proved difficult as he strode about the restaurant, barking orders in French and English. We followed him to the bar for a short conversation. "You want a cocktail?" he offered. "Wouldn't hurt, eh?"
We obliged. When in the company of Mr. Boulud, it is unwise to turn down anything, especially a drink containing pear-infused vodka, elderflower liqueur and a splash of champagne. The glass held a big ball of ice with a paper cutout of the Oscar statuette frozen inside.
Mr. Boulud told the Transom he hopes to make the Oscars party a yearly tradition, and insisted we sample some appetizers inspired partly by this year's foreign-movie nominees: grilled mahi-mahi for Kon-Tiki, for instance, and mouthwatering duck and apple with cranberry gelée for Amour.
As for Mr. Boulud's favorite movies? Argo—"a real action thriller"—and Silver Linings Playbook—"so genuine."
Moving on, we sidled up to Geoffrey Fletcher, who won the Academy Award in 2010 for Best Adapted Screenplay for Precious. He told us that he couldn't say he had a favorite movie from 2012, but added that he has written and directed a new movie, Violet and Daisy, to be released later this year, which he described as a "coming-of-age tale wrapped in a teen assassin's fable." We asked him to repeat his description, fearing we'd misheard.
"This is a different experience," said Patrick Harrison, the Academy's New York program director, comparing the party with its L.A. counterpart. "You can eat, drink, get up and go to the restroom."
But while you can pee all you want, you are less likely to stand in line behind many leading ladies. Liliane Montevecchi was in attendance, but Angela Bassett (expected) hadn't yet arrived when we took off for the West Side.
At KTCHN, the restaurant at The Out NYC—a gay, straight-friendly hotel on 42nd Street near 10th Avenue—chef Dale Schnell had prepared a $75 prix fixe selection based almost entirely on the original menu from the first Academy Awards, in 1929, at the Roosevelt Hotel in Los Angeles. Mr. Schnell said he had modeled the design of his menu card after original Roosevelt Hotel menus he found at the New York City Public Library and sought to create an "old Hollywood" vibe. "A bit of glitz, a bit of glam, without being too complicated," he explained.
Guests were treated to finger foods like rolls, olives, nuts and celery; for the main course, diners chose either filet of sole au beurre noisette or half-broiled chicken on whole-grain toast, which Mr. Schnell had changed from the original white bread. Other sides and desserts rounded out the five-course meal.
Having found a seat at the bar, the Transom watched the awards ceremony unfold, regaled by host Seth MacFarlane's old-fashioned song-and-dance routines. We also found much to admire in Halle Berry's sleek Versace gown and were delighted when the lovely Jennifer Lawrence won the Oscar for Best Actress in Silver Linings Playbook. And we knew at least Mr. Boulud was happy when Argo took Best Picture.