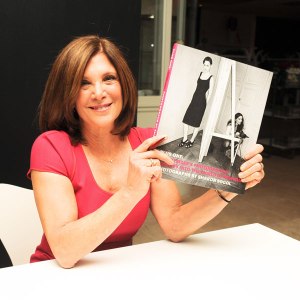 Last week, the Transom took the elevator to one of the most fashionable floors in town–the ninth floor of Barneys New York–for a celebration of photographer Sharon Socol's new book, Plus One: An Outsider's Photographic Journey into the World of Fashion. And it was nothing so much as an insider's affair.
There was a towering geek-chic Jenna Lyons with girlfriend Courtney Crangi, photographer Gilles Bensimon, and designers galore including Isabel and Ruben Toledo, Richard Chai, Tommy Hilfiger, Yigal Azrouel, and Rag & Bone's David Neville and Marcus Wainwright, among others.
Pretty fancy line-up of insiders, considering Ms. Socol's theme. Then again, Ms. Socol was never a true outsider herself. She gained access to high-profile industry events and fashion shows as the "plus one" to her husband, Howard Socol, the former CEO of Barneys New York, using her camera to document and navigate the fashion world.
Hosts for the fete were friends of Ms. Socol–Diane von Furstenberg (a no-show), Narciso Rodriguez and Simon Doonan–all of whom are featured in the book of black-and-white photos and happen to be the holy trinity of wrap dresses, minimalist sportswear and window dressage.
After powwowing with Mr. Rodriguez and Paper Magazine's Mickey Boardman, Mr. Doonan waxed philosophical with the Transom on the importance of being an outsider.
"It's good to be a bit of an outlier. It's not good to be always in, because then you get your objectivity, you keep your objectivity. It's good to be in and it's good to be out," he said.
And how might a young person infiltrate the wondrous world of fashion, we wondered?
"I think young people have become too driven and too demented too young," said Mr. Doonan. "When I was in my twenties, I was having fun, travelling and being stupid, and being useless. Everyone's too uptight. So my big advice to young people is: chillax."
Chill as hell, we sauntered over to a nearby tête-à-tête, where we asked Mr. Rodriguez if he ever felt like an outsider. The sweet and soft-spoken designer seemed shocked at our implicit suggestion that the fashion industry could ever resemble Heathers-esque competition. "I think it's very open for all people, who come here and study fashion," said Mr. Rodriguez. "I was never locked out."
Just before leaving, we tracked down Thakoon Panichgul, a modern it-kid, as a companion tugged him toward the elevators. Mr. Panichgul said, "I always hung out with, like, people who are not inside. Even in college I was like, I always wanted to be on the fringe of things. I never wanted to be in the fix of everything."
So what did the Transom learn from fashion's cool kids? That out is in and the industry is one big happy family?
Hmm. Dubious. Although the Transom did deduce one truth: if you want to crack into the fashion world, the least you can do is dress like you belong–and if that fails, marry a luxury department store head.