Former New York City Mayor Ed Koch died earlier this morning at the age of 88 after being hospitalized for congestive heart disease. Mr. Koch served as the 105th Mayor of New York City for three terms from 1978 until 1989. With a larger-than-life personality, Mr. Koch relished a position that allowed him to become something of a national ambassador for New York City.
Though critics accused Mr. Koch of worsening racial tensions in the city and not doing enough to fight the AIDS crisis that was particularly devastating to the gay community, Mr. Koch was fiercely proud of  his legacy, specifically, what he saw as his efforts to save New York from the financial crisis of the late 1970's, his vast expansion of public housing and programs and efforts he saw as bringing a more meritocratic approach to local government. Politicker conducted one of the final interviews with Mr. Koch on January 17, just two weeks before his death, and he characterized his administration as paving the way for his successors.
"I'm proud of what I did," he said. "I also believe that both Giuliani and, particularly, Mike Bloomberg have made tremendous contributions to this city. … And I look upon what I did as laying the groundwork and the foundation on which they could build, and without what I did, they couldn't have done what they did. So, I'm proud of my contributions."
In his later years, Mr. Koch remained involved in politics and, as he was throughout his time in office, engaged with the press. He penned movie reviews online, wrote books and newspaper columns, endorsed in many local and national elections up until his death and served on a panel of political "Wise Guys" on NY1's nightly political program Inside City Hall. Today, a documentary about his life, Koch, premieres in theaters. When we spoke with Mr. Koch last month, we joked with him that, with his memoirs once turned into a musical and, his appearances in television, books, the web and, now, the film, he was something of a mayoral "king of all media." Mr. Koch clearly enjoyed the suggestion.
"I never thought of it that way, but you could say that," he said with a laugh and huge grin.
Mr. Koch got his start in politics in 1963 as a district leader by defeating Carmine DeSapio, the last boss of the notorious Tammany Hall political machine that dominated city politics from the late 18th century until the 1960's. He went on to serve in the City Council and for four terms in the House of Representatives.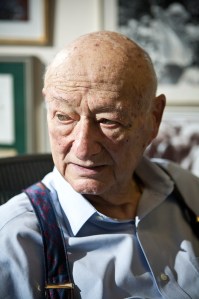 In his later years, Mr. Koch became something of a mayor emeritus, a man whose face and name were once almost synonymous with the five boroughs and allowed him to enjoy continued life in the public eye until his final days. One of his proudest moments came in March 2011 when the Queensboro Bridge was renamed in his honor–a move that was not without opposition in City Hall. The new documentary about his life features many scenes in which Mr. Koch seems to have almost paternal feelings about the city, including one in which, while driving past the bridge he lovingly refers to it as "my bridge." We asked him whether it would be accurate to say, as a mayor in winter, it would be accurate to describe him as feeling "protective" of the city he once ruled. He laughed and pointed to another scene in the film.
"You know, the film opens with me coming back from Washington when I was a congressman and I say as I look out the plane window, 'And this all belongs to me.' It's a very exciting moment and it happened every time I rode either way and came back at night," he said. "So do I feel something very special about the city? Of course."
Mr. Koch became mayor after the 1977 election, a campaign in which he was decidedly an underdog. As a bachelor and a man with a shrill voice that consultants and vocal coaches urged him to correct, Mr. Koch was in many ways an improbable choice for the city. However, by emphasizing a desire to restore order after the riots that followed the 1977 blackouts and a bombastic, combative approach to campaigning, he was able to earn a victory.
"The very fact that I became mayor in 1977 conveys how you can't figure out what the people will do," he told us.  "Nobody thought I would be elected. When I entered I got four percent of the vote in the first poll, four percent."
Throughout that first election and his administration Mr. Koch was known for rather gleefully sparring with his opponents and the reporters who covered him. He seemed to enjoy bringing what he agreed was a "New York attitude" to governance.
"I was not afraid of the press or the militants," he said. "It was uncomfortable, but I was not afraid. With respect to the press, I knew I knew more than they knew about city matters. With respect to the militants, I understood it. I mean, everybody believed in those days that they were being screwed, you know, that somebody was getting ahead of them."
Mr. Koch said his love of political sparring was cemented during an incident during his mayoralty where he confronted opponents on a picket line in his inimitable style and best-known catchphrase.
"There was this huge picket line of the union people with signs saying, 'Koch must go, Koch must go,' and they're yelling, just really angry," said Mr. Koch. "As I walked through the line to get to the entrance there were two women, one white, one black, and they were yelling, 'Koch must go! Koch must go!' And I couldn't help myself, so I turned to them and I said, 'How'm I doing?' Honest to god, they both said, 'You're doing wonderful, wonderful.' And then, as I walked further, then it began again, 'Koch must go!' So, it was at that moment that I realized that 75 percent of all the attacks are simply theatrics, drama, fun in a way. And it reduced the pain."
His critics felt he ignored their concerns, particularly as AIDS ravaged the city, when he shut a hospital that was beloved by the black community in Harlem and when he appointed a longtime associate with questionable credentials to head the Health and Hospitals Corporation in the mid-1980's. However, Mr. Koch argued he simply couldn't keep all New York's diverse constituencies happy while doing an honest job overseeing the five boroughs and fiercely defended his efforts to "run the most merit-situated government that we've ever had." Particularly, he viewed reforms he brought to the city's judicial system as one of his signature achievements.
"I'm very proud of–I changed the judicial system so that I no longer searched for candidates and fulfilled political obligations, which prior mayors had done using the appointments–the mayor appoints criminal court and family court judges," Mr. Koch said. "I created a committee in which the judicial agencies … had as many delegates on there … as I did. And then, in addition, we took the deans of three law schools and they were given the responsibility of finding candidates for each vacancy."
His system endured beyond his term although Mr. Koch notes one of his successors, Rudy Giuliani, "kept the system, but violated it." Mr. Koch and Mr. Giuliani's relationship varied wildly over the years. In 1989, when Mr. Giuliani first ran for mayor Mr. Koch supported David Dinkins. As a Jew, Mr. Koch's support was instrumental in helping Mr. Dinkins become the city's first African-American mayor at a time when tensions between Jews and blacks ran high. Mr. Koch had previously inflamed this rivalry when he attacked African-American presidential candidate Jesse Jackson for referring to New York as "Hymietown." After four years, Mr. Koch backed Mr. Giuliani in his successful effort to unseat Mr. Dinkins.
"When David had a terrible single term with Crown Heights as his legacy–nice man, but unsuccessful mayor–I then supported Giuliani against David," explained Mr. Koch.
In his former role as U.S. Attorney, Mr. Giuliani prosecuted many officials involved in corruption scandals that were seen as stopping his effort to run against Mr. Dinkins and secure a fourth term. In the end, Mr. Koch noted he was never directly implicated in the scandals.
"If Giuliani thought I was corrupt, you could have been sure he would have gone after me. You know, they always were after what they referred to as the 'big fish' and the danger in all these things is that the people they go after will lie and say, 'No, no it was the mayor,' in order to be able to get out from under," said Mr. Koch. "You had a U.S. Attorney who was very competent and who, ultimately, wanted to be mayor, so he was going to certainly try to destroy the then current mayor and he didn't."
Despite his eventual support for Mr. Giuliani, Mr. Koch became an opponent of his administration and began harshly criticizing him in a series of late 1990's Daily News columns. He eventually compiled the columns into a bluntly-titled book, Giuliani: Nasty Man, that he republished when Mr. Giuliani  attempted to run for president in 2007. However, in the end, Mr. Koch referred to Mr. Giuliani as simply, "a good mayor."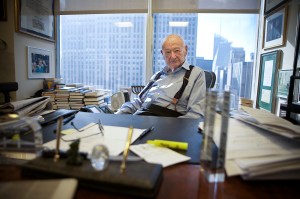 Before his death, Mr. Koch had already made his endorsement in the next mayoral election and, even the upcoming 2016 presidential campaign, clear. For him, one of the most important national issues is the country's relationship with Israel. He described his backing of Israel as stemming from a desire to see his fellow Jews protected.
"I'm an American, this country's given me everything. I love this country. My support of Israel is, in part, similar to the support of a Polish-American who loves the fact that Poland stood up to the Russians," Mr. Koch said. "That is not due loyalty, which is often charged falsely, it is that I know that every night there is some Jewish community in the world that's under attack by the people in the same country in which they're citizens and the government's not protecting them. … It's so important that there be a secure Israel that can accept them and give them sanctuary. It's happened before, it'll happen again. Regrettably, Israel didn't exist when the Nazis were in power, because Hitler offered to let the German Jews go if there was a country that would take them. No country would take them."
Mr. Koch also framed his support for Israel in terms of its importance to American security.
"Israel is the only Democratic state [in the Middle East] it's the only one we can rely on," said Mr. Koch. "You look at the Islamic states and what is their goal? The destruction of western civilization."
One of the items that was on display in Mr. Koch's Midtown office up until his death was a framed photo showing him on a visit to Jerusalem being hit with a rock thrown by Palestinian protesters. The picture was accompanied by a letter from former Israeli Prime Minister Yitzhak Shamir thanking Mr. Koch for being the "first eminent American to be standing in the Old City." Mr. Koch said he received nine stitches after being wounded by the rock.
"If it had hit my eye, it would have taken my eye out," he said. "That's why I have such a low opinion of Tom Friedman, because he urged the third Intifada. He told the Arabs to throw stones."
Mr. Koch's views on Israel largely defined his relationship with President Barack Obama. Though he endorsed President Obama in 2008, he later backed Republican Bob Turner in his 2011 congressional campaign in a rebuke of the Obama administration's stance on Israel. Though Mr. Koch and Mr. Obama later reached a rapprochement, the former mayor said he's still worried about how President Obama will handle the situation in the Middle East.
"He has a philosophy which is different than mine and his philosophy is that somehow or other, he is the guy who can bring the Islamic states together with the United States and western civilization," said Mr. Koch. "I think he's dead wrong and, in order to do so, I believe he concluded earlier that that means lessening the ties with Israel. And then, as the result of the response from people like me, he decided he would change on that. How long that change lasts, I don't know. People generally, in deeply held philosophical positions, ultimately revert to them in time."
Though Mr. Koch was more than comfortable in the public eye, he was never comfortable discussing his personal life. After a lifetime as a bachelor, he faced persistent rumors he was gay that added to the anger directed at him during the AIDS crisis. Though Mr. Koch thought the documentary about his life depicted him as a "lonely" man. It also showed scenes of him with the family who surrounded him at his death.
"I wanted the world to see my family and my sister's grandchildren in particular, who I adore," said Mr. Koch pointing to a group of framed photos displayed prominently at the front of his desk in Midtown. "There are seven of them. They're all there."
As a man who led New York City for twelve years and remained relevant for decades after, one would think Mr. Koch might have left the world with some words of wisdom to pass on to his successor Mayor Michael Bloomberg about how to confront the post-mayoral period he will begin next year. However, Mr. Koch told us he had no advice for Mr. Bloomberg about the next chapter in his life.
"We have never talked about it and he doesn't need any advice from me," Mr. Koch said. "With $20 billion, you can buy the services of people who are much smarter than I am to provide the advice on this issue. So I could well understand why he doesnt need any advice from me."