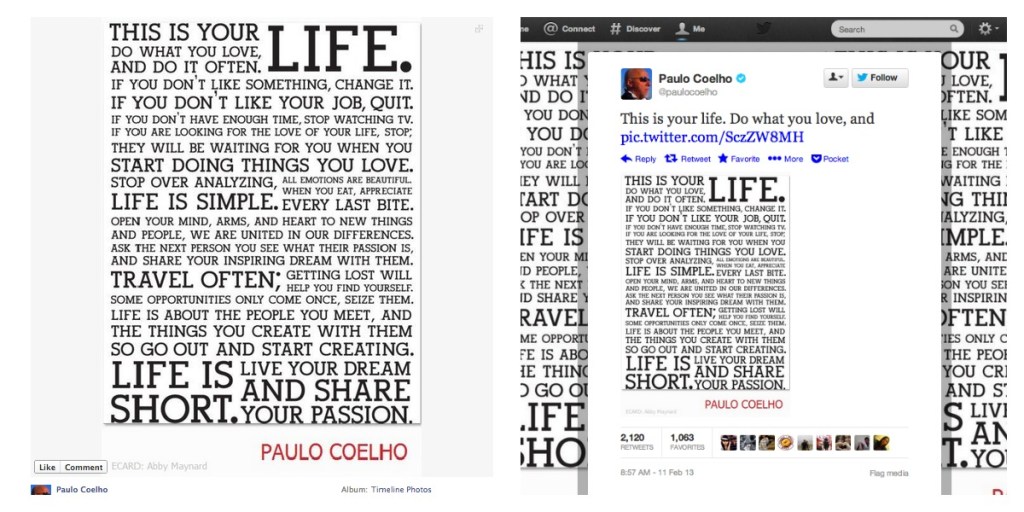 Paulo Coehlo, the highly-acclaimed Brazilian novelist behind The Alchemist, has more than 10 million "likes" on his Facebook page and almost 7 million followers on Twitter. A few hours ago, all those social media fans saw Mr. Coehlo share a manifesto on Facebook and Twitter. He also made it the background of his Twitter profile.
Since Mr. Coehlo included his name in big, red font at the bottom of the post, his followers could be forgiven for assuming he had written it. However, the manifesto is actually the copyrighted work of Holstee, a New York City-based lifestyle goods company that describes itself as "pursuing our dream for a sustainable & united planet." 
In prints of the manifesto, the copyright and names of the Holstee founders–David Radparvar, Michael Radparvar and Fabian Pfortmüller–appear at the end original text, in the same spot where Mr. Coehlo, or whoever manages his online presence, inserted his name. The text, which was written in 2009, is an odd choice for copycats considering that it has been viewed more than 80 million times, according to the online shop where you can buy a poster of the manifesto. As Andy Ellwood noted, back in 2011, the Washington Post even called Holstee's work "the New 'Just Do It.'"
After complaints on Twitter, Mr. Coehlo has since deleted the Facebook post–removing his big red name from the bottom and reposting it as "the Holstee manifesto," up top. He also deleted his original tweet and then tweeted it out again as "The HOLSTEE manifesto." Neither of the reposted images include Holstee's copyright.
Mr. Coehlo, who has spoken out against plagiarism in the past, apologized on Twitter to the company, but without an explanation. We've reached out to Holstee and will update the post when we hear back:
@holstee for a period of 3 hr your manifesto was here and in Facebook as it were mine. Already deleted, posted again -and I apologize.

— Paulo Coelho (@paulocoelho) February 11, 2013
Here are the tweets accusing Mr. Coehlo of plagiarism before the mistake was fixed:
[nyo_storify
src="http://storify.com/nitashatiku/did-paul-coehlo-rip-off-holstee/"]
Correction: An earlier version of this post stated that Holstee was based in Brooklyn. The company moved its headquarters from Brooklyn to Manhattan in March 2012. Holstee cofounder Michael Radparvar was also listed as Michael Rad. We regret the errors.