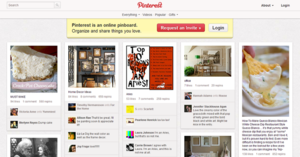 Take that, Quentin Hardy: A day The New York Times reporter declared that a billion dollar valuation ain't what it used to be, word leaked this afternoon that Pinterest is working on a new funding round that will value the firm at $2 to $2.5 billion.
According to The Wall Street Journal, the Pinterest deal hasn't been finalized, and the Journal doesn't name potential investors. No billion-dollar club newbie, the San Francisco company raised $100 million at a $1.5 billion last May, in a round led by Japanese ecommerce site Rakuten and joined by Bessemer Venture Partners, Andreessen Horowitz and FirstMark Capital.
Whether Pinterest's new valuation is a mark of the company's large potential, a still-hot market for the social media companies that rise above the fray or all around silliness, it's probably worth underlying what Sequoia Capital's Jim Goetz told the Times about the future ranks of billion-dollar startups: "A year from now that might be 100," he said.