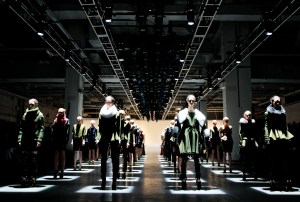 As New Yorkers woke up under a blanket of snow Saturday morning, the Transom braved the ice-lined streets of Soho en route to St. John's Studio, where—inside the unmarked brick building—a battalion of models had assembled in preparation for the launch of Prabal Gurung's fall 2013 collection, "Regiment."
Just before the chic soldier-models marched down the runway before the likes of Vogue's Anna Wintour—properly seated in the front row—the Transom ventured backstage to find out more about the collection's inspiration.
As makeup artists and hairstylists hustled about, we found Mr. Gurung looking calm, cool and visibly happy in front of a collage of his designs.
Clad in a black sweater, black jeans and black boots (everyone wears black except the models), the designer was busy smiling and pleasantly shaking hands with the growing horde of photographers, editors, publicists and stage managers who wanted a piece of his time.
It's no surprise he's in such high demand. Four years since his Fashion Week debut, he counts Michelle Obama and Kate Middleton among his fans. Even so, when a staffer offered Mr. Gurung sips of water between interviews, the humble designer was almost overly gracious. "Thank you," he told the young man. "Thank you so much."
So what inspires the man who designs for the world's leading ladies?
Mr. Gurung told the Transom it was Time magazine's "Best Inventions of 2012" feature on body armor for female soldiers—combined with the Pentagon's decision last month to lift the ban on women in combat—that sparked his imagination.
"All these years, women have been wearing men's uniforms, and now they're redesigning," he said. "That led me to think about, 'Oh my God, I've taken it for granted. Women need a separate kind of new uniform.'"
Fear not—the models didn't walk the runway in camouflage and flak jackets. Instead they sported military-inspired pieces with classic Gurung touches: black woven leather harnesses over military-green peplum jackets and a mink patchwork coat with feathered red fox, all designed to embrace feminine beauty and strength.
"What is empowerment, and what, as a woman, does it mean?" Mr. Gurung pondered before the show. "It's not necessarily about being aggressive, but about totally embracing your femininity, totally being comfortable with being a woman in a man's world and ruling it."
Minutes before the show began, amid the hustle and bustle and dramatic lighting, there was a rare moment backstage when Mr. Gurung was left alone to himself. In the few seconds of silence, he turned slowly around to study the wall behind him, where photographs of his collection were mounted in orderly rows.
Asked what he hopes to conquer next in the world of fashion, Mr. Gurung mused, "I just hope that creatively I'm challenging myself and pushing myself and the business is growing. And I just hope I'm around for a long time. I just love the industry."
With that, the Transom departed Mr. Gurung's world, trudging through slush and frozen puddles in a pair of weather-inappropriate high heels. Channeling the designer, we embraced our feminine uniform (in our own small way) and walked, empowered, down the sidewalk to hail a cab.