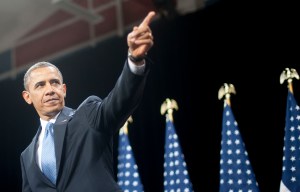 In 1981, when Ed Koch was mayor, President Barack Obama moved to New York City to study at Columbia University. Today, Mr. Obama joined New Yorkers in mourning Mr. Koch's death.
"Ed Koch was an extraordinary Mayor, irrepressible character, and quintessential New Yorker," Mr. Obama said in a statement. "He took office at a time when New York was in fiscal crisis, and helped his city achieve economic renewal, expand affordable housing, and extend opportunity to more of its people."
Mr. Koch's and Mr. Obama's relationship warmed and cooled in recent years. Mr. Koch endorsed Mr. Obama in the 2008 presidential election but began to sharply criticize his administration's treatment of Israel, especially when the president called for the country's pre-1967 borders to be the starting point for a Palestinian peace deal. Mr. Koch's frustration notably culminated in 2011, when he openly considered a cross-party endorsement in the special election to replace outgoing Rep. Anthony Weiner.
"I saw him appear on New York 1 where he suggested he might support the Republican candidate in a special election–that would be me–as a protest against President Obama's Israeli policy," former Congressman Bob Turner told Politicker this afternoon. "So I called him."
The two scheduled a meeting at Mr. Koch's Manhattan office where they clicked on key elements of foreign and domestic policy. Mr. Koch determined that a high-profile election in a heavily Jewish congressional district was exactly the right route to influencing Mr. Obama.
"I think he was a little cagey but he was really charming," Mr. Turner recalled. "He told me he had supported Republicans in the past but it's not something he's crazy about. He made his points clear. … He came out to political events, he was quite helpful. I think he was the determining factor in that special election. … Wherever he went he was very well-received. He had a higher popularity rating than the New York Yankees! He was in the high 70's of approval."
Mr. Turner would go on to win that election in an upset, and after Mr. Obama subsequently gave a staunchly pro-Israel speech at the United Nations, Mr. Koch considered his "message" to Mr. Obama on Israel very much sent. Mr. Koch endorsed the president's reelection campaign just a few weeks after Mr. Turner's victory.
"I believe the recent vote in the 9th Congressional District in New York affected in a positive way the policy of the U.S. on the Mideast," the former mayor explained at the time
For his part, Mr. Obama referenced Mr. Koch's advocacy for Israel in his statement today.
"In public office and beyond, his energy, force of personality, and commitment to causes ranging from civic issues to the security of the state of Israel always informed and enlivened the public discourse," the president said. "Michelle and I send our thoughts and prayers to Ed's loved ones, and to the city that survives him."