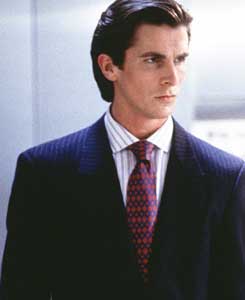 Some chefs long to cook for royalty; others aspire to Michelin stars. Freelance chef Francis Derby always dreamed of cooking a six-course dinner based on American Psycho.
Last Thursday, Williamsburg's Nitehawk Cinema granted Mr. Derby his wish. The evening featured six dishes, prepared by Mr. Derby and served at perfectly timed intervals throughout a screening of the 2000 cult classic, matching the meals the characters eat in film.
The Transom settled into our seat around 7:30 p.m., in a theater largely occupied by well-dressed men in their late 20s. Mr. Derby spoke to his hungry audience before the screening—and the food service—began.
"What can I say?" he said. "I can say that the menu is … the menu. And what I mean is that we can't really do any substitutions tonight. If you've got a nut allergy, I'm sorry. Peanut soup is peanut soup."
New York may be a city of foodies and fad diets, but everybody accepted Mr. Derby's caveat without objection. These American Psycho devotees were ready for the full-on, as-advertised experience.
The Transom quickly discovered that, for a movie that's not about food, the characters do a ton of eating—squid ink ravioli with lemongrass broth, goat cheese profiteroles and arugula Caesar salad. Next came peanut butter soup with smoked duck and mashed squash (a favorite of the crowd). Then there was sea urchin ceviche, followed by a cilantro crawfish gumbo and then a roasted hanger steak with béarnaise and potatoes. Finally, there was a delightful block of chocolate parfait, filled with hazelnuts and cherries.
We found ourselves sipping peanut butter soup while Patrick Bateman viciously murdered a homeless man. The sea urchin ceviche arrived during a prostitute's murder by chainsaw.
The screening was followed by an '80s-themed after party in the Nitehawk's downstairs bar. While DJ Dow Jones spun Genesis tracks and guests sipped Coronas, Mr. Derby and his brother, Daniel—who helped prepare the meal—held court in a corner booth.
Mr. Derby explained to us why a movie about serial killing and Wall Street financiers who eat in fancy restaurants remains relevant in present-day Williamsburg.
"I think it's definitely relevant, as far as the food scene, because the food scene was a little bit more elite back then," he said. "[The general public] did not know as much about food. There were not as many foodies—there was no Food Network back then. So it was a very small group of very rich people that got to eat like that. Now everyone eats like that."
Midway through his explanation, Mr. Derby was cut off by moviegoer Christian Mudgett.
"You combined two of my favorite things: food and that movie," he said, reaching over the table to shake Mr. Derby's hand enthusiastically. "So thank you."