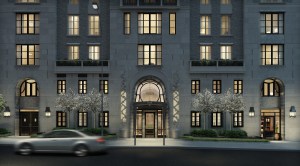 Limestone and classicism have enjoyed something of a revival in new New York construction over the past few years, perhaps spurred by Robert A.M. Stern's runaway success, 15 Central Park West. But where 15 CPW mixes classic features and materials with clean modernism—Stern's post-modern influences are still visible in the building's design, despite its Candela-like appearance—the Brodsky Organization's 135 East 79th Street, with exteriors and interiors by designer-to-the-starts William Sofield, is all tradition.
It's also attracting what passes for a very traditional clientele in today's frothy, foreigner-fueled condo market—not only domestic buyers, but actual New Yorkers.
Sources tell The Observer that pre-war touches have succeeded in drawing a very local clientele—unlike its modernist ultra-luxe competitors, which market their condos to would-be buyers across the globe, the 17 units in contract have been scooped up almost exclusively by New Yorkers.
"Many foreigners will buy the Midtown location," broker Donna Olshan, of Olshan Realty, who is not associated with the building, told The Observer. "They'll buy the box up in the sky, because where they come from in Europe, they don't get that kind of architecture. Whereas the New Yorker," who will use the building as their primary residence rather than as a pied-à-terre, "is interested in large space, high ceilings and nice finish work."
The developers didn't have to build in a traditional style, as the building is not located in a landmark district, but the 19-story Upper East Side building is echt old fashioned. Residents will be greeted by two 22-foot pear tree sculptures (to be lovingly chipped by Mr. Sofield's own hands on site, The Observer was told), and will pass beneath wrought iron gates installed on the first-floor façade, forged at the same foundry as those at Buckingham Palace, on display at the building's sales office at 654 Madison Avenue.
The Brodskys are looking for a cool $50 million for the full-floor penthouse (the top one, at least—the style may be pre-war, but the penthouse inflation is all too modern), which features such culinary delights as a breakfast room and a "morning kitchen"—because having all your meals prepared in the same room is so middle class.
Compared to its limestone rival down the street—200 East 79th Street, on the more plebeian Third Avenue—135 East 79th Street has sold more slowly, but at a higher price per square foot. According to StreetEasy, the average listing at 135 East 79th Street is asking around $3,000 a foot, whereas its rival on Third Avenue is asking $2,000.
"One nice thing about when developers do a project like [135 East 79th Street]," Ms. Olshan said, "is that it telegraphs to the real estate community and consumer that they're interested in high quality work and finishes, and that they're a developer that's here to stay. It's essentially luxury goods marketing, but with a real estate direction to it."